Josh Heupel shares how draft success helps build Tennessee brand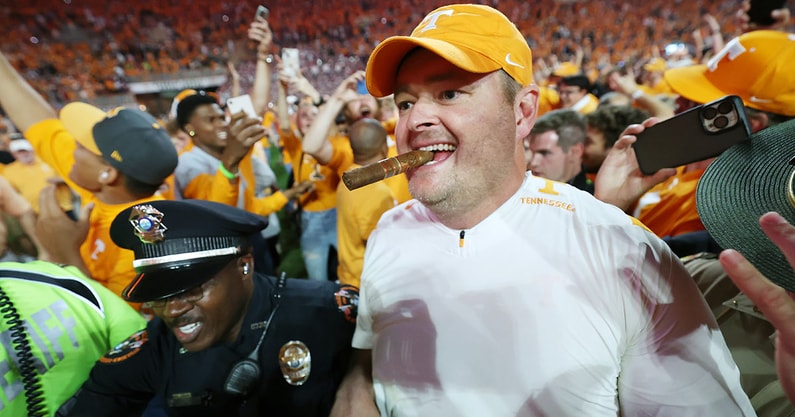 It was another historic draft weekend for Josh Heupel and the Tennessee program this year as the team had five players selected in the first three rounds of the draft. That ranked second among all teams across the country.
It was the most Volunteers selected over the first two days of the draft since 2007. Their 10 picks over the past two years is also the best since the 2006 and 2007 drafts.
Heupel hopped on with Josh and Swain on 99.1 The Sports Animal in Knoxville, Tenn., last week and talked about how cool it was to watch his players live out their dreams.
"Huge day for those guys," Heupel said. "The amount of work that they put in, it's great for everybody inside of our program. You talk about players that are currently here being able to see their buddies work, compete, do the right things and how that parlays into success on the field but then success on draft day as well. From strength and conditioning to nutrition, the medical team, it takes everybody. They all take great pride and great joy in seeing those guys get their names called."
The five Tennessee players selected in the first three rounds of the 2023 NFL Draft were quarterback Hendon Hooker, wide receiver Jalin Hyatt, wide receiver Cedric Tillman, offensive tackle Darnell Wright and EDGE Byron Young.
Wright was selected with the 10th overall pick by the Chicago Bears. The other four were all selected in the third round of the draft, all within a span of 10 picks.
Hooker went with the 68th pick to the Detroit Lions. The New York Giants selected Hyatt. Tillman was snatched up by the Cleveland Browns. The Los Angeles Rams chose Young at No. 77.
Those five players were the only Volunteers chosen in the draft.
"Certainly helps on the recruiting side of it too," Heupel said. "I think top eight in the country in draft picks over the last two years. This year, second in the country in guys being called in the top three rounds. There's a ton of positive momentum, and certainly it's going to help us as we continue to go through this recruiting cycle."
The 2024 Tennessee recruiting class currently ranks ninth in the country with 11 commits, including six four-star players. Four-star quarterback and top-100 recruit Jake Merklinger out of Savannah (Ga.) Calvary Day School leads the Volunteers class.