Josh Heupel shares positive injury update ahead of clash with Ole Miss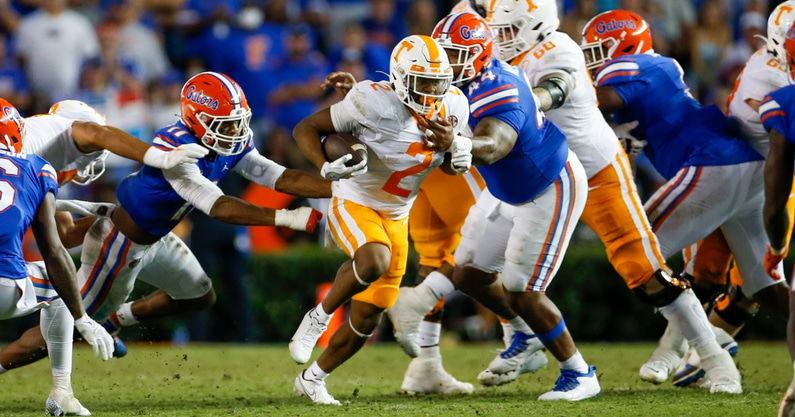 The Tennessee Volunteers need all hands on deck for Saturday's showdown versus the one-loss Ole Miss Rebels. Josh Heupel shared good news on that front as the game draws near.
"I believe that all the guys that weren't able to play this past week will have an opportunity to be back with us this week," Heupel said. "(Mitchell) is the one guy that won't be with us on Saturday."
A frequent injury question dodger, Heupel's update cleared up questions about several Vols. Running back Jabari Small, offensive lineman Cooper Mays, defensive back Theo Jackson and running back Tiyon Evans were all unavailable versus South Carolina.
Cooper Mays started the season at center for Josh Heupel but he's been out of commission since the Florida game.
DB Theo Jackson only missed the one game and his replacement Brandon Turnage shined in relief duty. With 14 tackles, he won SEC Defensive Player of the Week honors. Jackson's posted 37 tackles and 6.5 tackles for loss at nickel.
Junior running back Tiyon Evans is just 14 yards shy of the 500-yard mark through Week 6 with six touchdowns. He's 28th in the nation in yards per game. Jabari Small has almost 250 yards on 44 carries in four games played, plus two scores.
These injury updates are all much-needed good news as the Vols learned they'll be without Texas transfer linebacker Juwan Mitchell for the rest of the season. Mitchell underwent shoulder surgery.
Heupel calls for 'hostile environment'
The Volunteers announced Saturday night's game versus the Ole Miss Rebels will be a checkered affair in Neyland Stadium. First-year Vols head coach Josh Heupel is excited by any means that get more fans into the stands for the SEC showdown.
"I'm into whatever our fans want to do for Saturday night on this one," Heupel said on Monday. "I think if you want an exciting brand of football, you want to compete really hard, bring fans to the stands, I think we're doing that right now, and you want your fans to enjoy the moment.
"Saturday night will be a great environment. We need it to be a hostile environment. We need to make it tough for those guys to communicate, we need to make it loud and uncomfortable."
Tennessee's crowd last reached full capacity for a 41-0 loss against Georgia, during Butch Jones' final season as head coach in 2017. A sellout crowd could make a big difference for the 4-2 Vols. The Rebels are three-point favorites in Vegas and coming off a shootout win over Arkansas.
Josh Heupel's Vols are 37th in scoring defense, holding teams to 21.5 points per game. Tennessee's offense is just a few points per game behind the Reb's own high-powered attack. Ole Miss ranks fourth in scoring offense while Tennessee ranks seventh. Mississippi is 4-1 on the season with a lone loss to Alabama two weeks ago.