Josh Heupel speaks on familiarity with Lane Kiffin from previous coaching stops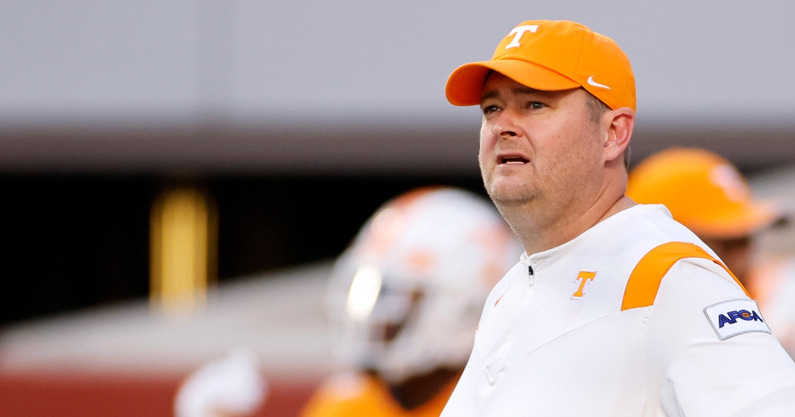 Josh Heupel and Lane Kiffin face each other this weekend in a battle of two of the SEC's most interesting teams. Heupel has breathed new life into the Tennessee Volunteers, while Kiffin has turned Ole Miss into an offensive juggernaut.
However, this isn't the first time Heupel and Kiffin are coaching opposite squads on game-day. The two men coached against eachother in both 2018 and 2019 — when Heupel led Central Florida, and Kiffin was the head man at Florida Atlantic.
In those games, Heupel got the best of Kiffin's underdog Owls. First, Heupel's Knights escaped an upset bid by defeating FAU by a score of 56-36 in 2018. The second matchup wasn't as juicy, as Kiffin's squad fell once again by a score of 48-14 in 2019.
Heupel learned a thing or two about Kiffin's coaching style back then. In his press conference earlier this week, Heupel detailed what he expects from Kiffin when the two are pitted against eachother once again.
"You understand that he's going to be aggressive in certain situations playing with four downs quite a bit," said Heupel. "On both sides of the football field. I think defensively, our players and our coaches certainly need to understand that going into the football game."
In addition to speaking to Kiffin's aggressiveness, Heupel mentioned that the Ole Miss coach finds ways to utilize every one of his players.
"(Kiffin) does a good job with his personnel. Finding ways to put them in a position to be successful," said Heupel. "He's done it with a lot of different styles of offense."
As you can see, Heupel harbors a lot of respect for the Ole Miss head coach. However, it won't matter when the lights are brightest on Saturday — his sole focus will be defeating Kiffin for a third time.
Heupel on Matt Corral: 'Special player.'
Furthermore, Heupel recognizes that Kiffin's quarterback is a one-of-a-kind talent. When Matt Corral comes to town on Saturday, the Tennessee Volunteers must make it their mission to stop him.
"Obviously, offensively, their quarterback [Matt Corral] is a special player and has done a tremendous job, this season in particular, but last season as well," said Heupel. "He's a dynamic playmaker and we got to make it tough on him all night long. Got to do a great job of bottling him up as well."
Corral has been the Heisman Trophy favorite at times, embroiled in a tight race with Alabama quarterback Bryce Young. If Tennessee is going to defeat Ole Miss on Saturday, they'll need their quarterback to keep pace with Corral — Hendon Hooker.
In a game with plenty of juicy matchups, Josh Heupel and Lane Kiffin could give us a glimpse into the future of the SEC. With these men at the helm, Tennessee and Ole Miss both have bright futures.