Josh Heupel, Vols embracing the implications of Florida game, not tuning them out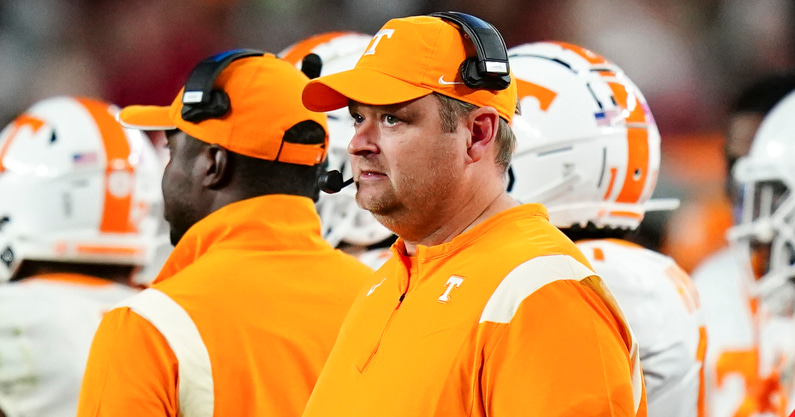 Tennessee has quite a matchup coming up this week against Florida. The game is seen as a potential must-win game for the Gators, and Vols coach Josh Heupel understands how important it is.
The hype is building as No. 20 Florida heads to Knoxville to take on No. 11 Tennessee, and Heupel knows his players can't ignore it in the age of social media. That's why he's not expecting his players to put blinders on during the week. Instead, he's embracing the implications.
However, Heupel's message to them is simple. If they listen to what's being said, they can't let it impact their preparation.
CLICK HERE to subscribe for FREE to the On3 YouTube channel
"It's impossible to block out the noise in today's world," Heupel said. "It's absolutely impossible. So they're going to see it and hear it. You can't let it affect what matters, which is your preparation. Everybody's going to want to win. On game day, you've got to do what it takes to win. So I think that's important.
"Our kids should be, and are, excited about this one. It's always a big one when we play Florida. So embrace that at the beginning of the week and be consistent. … The energy, you've heard me speak it, it's not a whole lot different, man. We're business-like in our approach, our kids have a much better understanding of how to prepare and now, we've got to finish it and go play."
Ivan Maisel addresses whether or not Florida game is program-defining for Tennessee
The Tennessee Volunteers will have the eyes of the nation upon them as the Florida Gators, and College GameDay, come to Knoxville on Saturday. Although a win versus Florida would be their second victory over a ranked opponent this season, On3's Ivan Maisel argues there's more important games that could help define the program under Josh Heupel this season.
"Up to this point, sure, but it's Week 4 and Georgia's looming out there, and for that matter, so is Kentucky," Maisel said, breaking down his view of the weekend matchup on On3's 3 Questions with Ivan Maisel.
"It's a little early to establish anything. It's kind of interesting about Tennessee, it's been so long since they've been able to beat Florida, but now, that's not the team they have to beat, it's not the mountain they need to climb. That one's in Athens and no one's beating those guys lately."