Josh Heupel weighs in on NIL, lessons learned in new college football landscape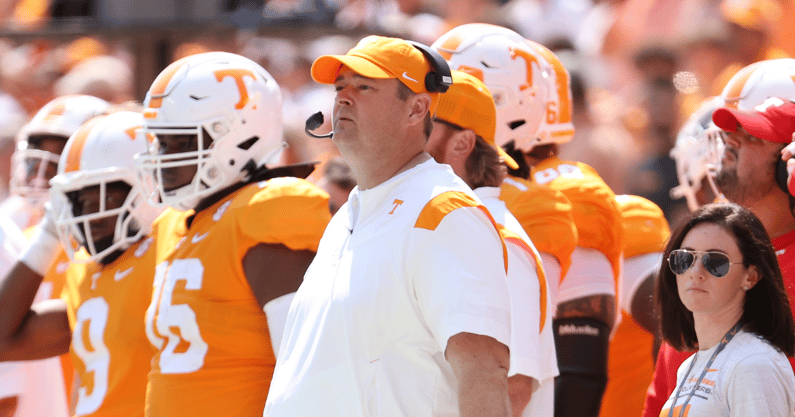 NIL is, of course, one of the big topics ahead of the 2022 football season. Most coaches at SEC Media Days were asked about its impact on the football landscape in some regard. While a lot of confusion exists on the topic, Tennessee coach Josh Heupel viewed the development as a positive for the sport and for his team in particular.
During his podium appearance in Atlanta this week, he explained why NIL presents great new opportunities for his players.
"Yeah, for us, I think there's great opportunity in it. Hendon [Hooker] and what he's been able to do, have an impact on our community, on youth inside of our community in particular. It's an opportunity to educate and empower our student-athletes. Which is what college football and the collegiate experience is all about."
Heupel also revealed that players are now entering college football with a completely different mindset.
"I think it's dramatically changed the way that young people come into your program. How thoughtful they are about every situation that they're involved in. How they're portrayed in what's out there on social media. The decisions they're making every night of the week.
"I think in those ways it's such an empowering tool for our student-athletes. I just go back to myself as a player. Certainly the most powerful thing that I had was my teammates and the logo that I was playing for."
Then the Vols coach reminisced on his own time as a player, looking back at what could have been if he and his teammates were allowed to benefit off NIL deals.
"At the same time, though, I think I was creating some value there, too. I would have liked to have had an opportunity to have been afforded to take part in NIL. Would have liked to have worn my starting left tackle's jersey or worn his shirt."
Finally, Josh Heupel looks at the younger generation as having an awesome chance to make a difference nowadays with NIL possibilities.
"I look at my own kids, Jace and Hannah, that get a chance to run around the house or run with their friends and wear a Cedric Tillman and Hendon Hooker shirt or jersey. I think there's empowering opportunities through NIL."