Kirk Herbstreit sends message to Tennessee, Purdue following Music City Bowl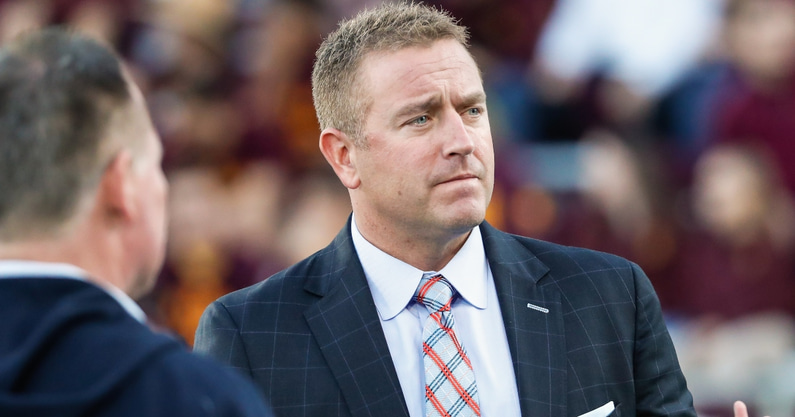 Leave it up to Kirk Herbstreit to point out the bright side after an embarrassing end to the Music City Bowl. Officiating robbed Tennessee of a touchdown but the game was still one of the most competitive of the bowl season thus far.
"So thankful the overwhelming majority of players LOVE to compete & battle," the CFB analyst posted on Twitter during the Music City Bowl. "What's an 'exhibition game' to some-is more chance to COMPETE w/ your boys for so many. Vol Football & Purdue Football doing just that in Nashville right now."
The Volunteers dropped the game in Nashville 48-45. The two teams posted over 1,200 yards of offense, including 534 passing yards from the Boilermakers.
Upperclassmen players opting out of bowl games has become more commonplace but also it provides an opportunity for young players to shine ahead of spring ball.
Fans were reminded of the joys of bowl season on Thursday with South Carolina head coach Shane Beamer getting drenched in Duke's mayo. Plenty more is in store on New Year's Eve with the Orange Bowl and Cotton Bowl coming up.
Referee error robs Tennessee of OT touchdown
After a back-and-forth affair in the Music City Bowl, Tennessee coaches, fans and players felt slighted. A controversial call from the referees wiped away an overtime touchdown for the Vols. Tennessee ultimately lost 48-45 to Purdue and finished the season 7-6.
After converting a fourth-down earlier on the drive, Tennessee opted to go for the touchdown on fourth-and-goal. They handed the ball to running back Jabari Small off of the right side. As he fought past defenders, his leg appeared to rest on top of a Purdue defender. He pushed his way beyond the goal line, however, the referee ruled that forward progress stopped prior to the push into the endzone.
Former NFL referee and NBC Sports rules official Terry McAulay provided an explanation for the lack of replay review on Thursday night.
"The whistle is not relevant," McAulay posted on Twitter. "The ruling was his forward progress was stopped short of the goal line. It's over at that point. There is nothing replay can do with it."
On3's James Fletcher contributed to this report.