Knoxville car dealership trolls Lane Kiffin with incredible callback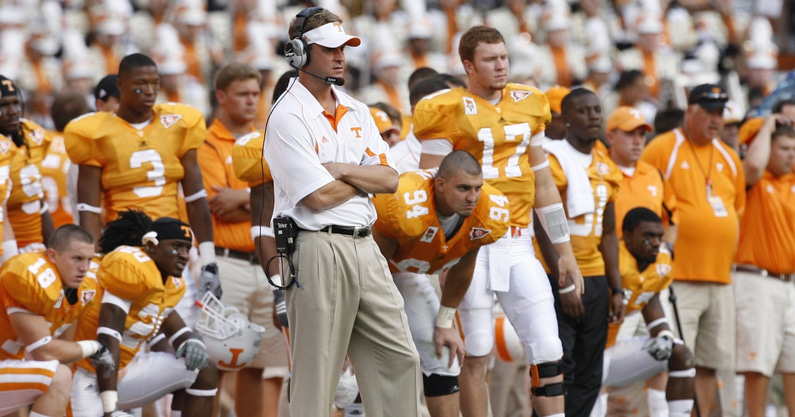 Ole Miss head coach Lane Kiffin is returning to the site of his first college head coaching job this weekend, and the residents of Knoxville are having a little fun with the situation.
A Lexus dealership near the University of Tennessee, where Kiffin was the head coach in 2009, trolled him on Thursday referencing a minor car accident involving the then 34-year-old head coach.
According to a 2010 ESPN article by Mark Schlabach, in August 2009, Kiffin crashed his Lexus after falling asleep behind the wheel. He said he was at the football offices for a meeting late into the night, and witnesses corroborated that while he had been there around midnight, there were a few hours when his whereabouts were unaccounted for before the early morning crash. He reportedly walked home from the site of the accident. 
The car was leased to Kiffin through a vehicle program for Tennessee coaches, but the university did not pay for the repairs. 
The story broke in January 2010, just a few days after Kiffin became the head coach at USC. He was in Knoxville for less than 14 months.
Ugly exit from Tennessee
In 2009, Kiffin was the youngest head coach in college football. He was tasked with replacing Volunteers legend Phillip Fulmer, who retired from coaching following the 2008 campaign. 
Kiffin made an immediate impact in Knoxville.
The Vols finished 2009 with a 7-6 record, an improvement from 5-7 the year before. His offensive prowess was on full display and the Volunteers pulled off impressive wins against Georgia, South Carolina and Kentucky. After falling to Virginia Tech in a 23-point blowout loss in the Chick-Fil A Bowl, Kiffin suddenly left Tennessee to accept the USC job after Pete Caroll left to take the Seattle Seahawks vacancy.
Since then, there has been bad blood between Kiffin and the Tennessee fanbase. 
"This was not an easy decision, this was something that happened very quick, a decision that myself and my family made," Kiffin said in a brief press conference in 2010. "I really believe that this is probably the only place I would have left here to go, to go to Southern Cal."
Kiffin played football at Fresno State and was a USC assistant coach from 2001-2006.
The second-year Ole Miss head coach twice returned to Knoxville as the offensive coordinator at Alabama, but he has not been back in a head coaching capacity.
This weekend's game pits two of the country's hottest offenses against each other in a game with an over/under of 82.5 as of Thursday morning. Ole Miss is a 2.5- point favorite in the SEC Network's primetime contest.
On3's Sean Labar contributed to this report.