Tim Banks provides his thoughts on freshman Arion Carter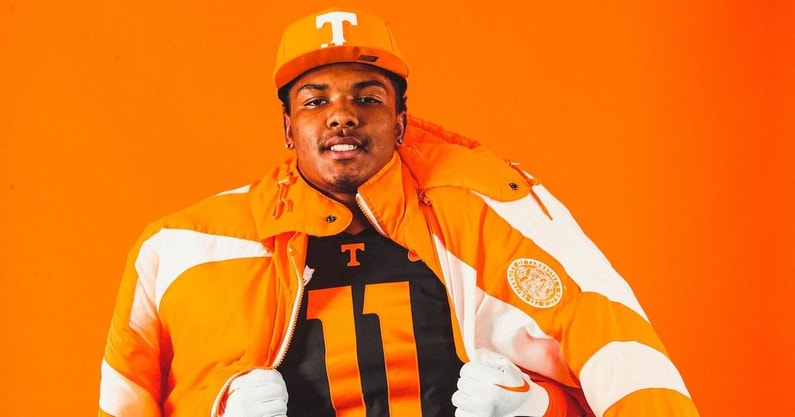 With all of the excitement level surrounding the Tennesse program, head coach Josh Heupel has brought in an exciting recruiting class. While quarterback Nico Iamaleava has the hype on the offensive end, linebacker Arion Carter is a name to remember on Rocky Top. Especially this early in spring practice.
Carter is a former Memphis commit but was regarded as a running back. Once switching to over to defense to play linebacker in his senior year of high school, his recruitment blew up. Tennessee was able to win out and the early returns are already positive according to defensive coordinator Tim Banks.
"The athleticism you can't hide," Banks said. "So, I was really pleased with the instincts he showed today in coverage. I think a lot of time for linebackers — typically, when they come out of high school, they're guys who come off the edges or guys that are just thumpers inside. But for you guys that seen him play in high school, tremendous running back.
"Obviously, blossoming as a linebacker. He's got really good instincts. I was pleased with what he showed in coverage today. So, he's definitely trending in the right direction."
Banks had more than just attributes on the football field to discuss as well. You can tell how highly he thinks of Carter, both as a person and from a mental evaluation as well. Another high-quality player coming into the fold in Knoxville.
"Anytime you get the opportunity to invest — and he has 15 opportunities to do so just like all of those guys," Banks said. "I would just tell you about him as a person, just a high-character kid. Has a lot of pride in what he does. He's extremely bright."
Carter was a major recruiting win for Tennessee, getting him to stay in the state. Once the linebacker switch was made, SEC programs were going after his signature. Alabama was the main competition, with head coach Nick Saban really wanting to bring Carter to Tuscaloosa.
Winning the Carter recruitment is good enough but beating Alabama makes it that much more special. And with how Banks is discussing the linebacker early on, good things will be coming in the near future.
Carter played high school football at Smyrna (TN) High School, where he was a four-star prospect. He was the No. 125 overall recruit in the 2023 cycle, according to the On3 Industry Rankings, a weighted average that utilizes all four major recruiting media companies.