Olivier Nkamhoua admits Kentucky film study was 'a little bit harsh'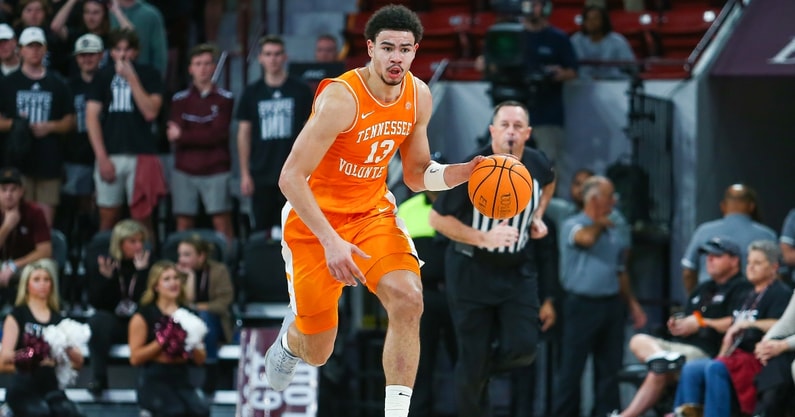 Tennessee's upset loss to Kentucky is one that the Vols definitely will want to put behind them, as it snapped their five-game winning streak, added a blemish to their previously perfect conference record, and bumped them down a few spots in the rankings. But before they put that loss behind them, they learned from it through film study, which senior forward Olivier Nkamhoua recently detailed.
"It was thorough, it was a little bit harsh like it needed to be because we didn't come out like we needed to," Nkamhoua said.
The Vols were 10.5 point home favorites heading into the game with Kentucky, and left with a 63-56 loss. Tennessee was cold behind the arc just making three three-pointers on 14.3% shooting, and were also significantly out-rebounded by the Wildcats 43-23.
Nkamhoua, Tennessee's second-leading scorer, personally had his worst game of the season as well scoring a season-low two points and only adding two rebounds, an assist, and a steal to his stat line.
"When you don't perform to the level that you needed to you need to have a reality check and understand that you can't come out soft regardless of how good or bad you are," Nkamhoua said. "Anybody can win a game."
Thankfully for the Vols, they bounced back after their loss, defeating Mississippi State 70-59 in a win headlined by a career-high scoring performance by Zakai Zeigler. Tennessee looks like they're headed back on track, and their away game in Baton Rouge this Saturday versus LSU will surely test that theory.
Rick Barnes on importance of breakout performance from Zakai Zeigler with others out
Tennessee topped Mississippi State 70-59 on Tuesday night despite playing without two of the team's stars, managing to win on the road in large part thanks to a breakout performance by Zakai Zeigler.
The point guard managed to score a season-high 24 points while having to play cautiously with backcourt mates Santiago Vescovi and Tyreke Key out due to injury.
"I think we had to throttle back," coach Rick Barnes said. "We knew coming in tonight that we were going to be down 10 fouls in the backcourt. We had one point guard. Even though we would look at (Josiah-Jordan James) as being a point-forward, a guy that can handle the ball if necessary, we knew Zakai was going to have to play a lot of minutes and we told him, 'Hey, you can't get in foul trouble.'
"He has a hard time doing that, backing up. Because his instincts, he wants to go play 94 feet, he wants to be aggressive and we obviously were in a really contained, tight defense."
But Zeigler had no issues doing so on Tuesday night in the double-digit win over the Bulldogs.
He played every single minute in the contest and managed to finish with just three personal fouls. He matched his season-high with six rebounds, while also contributing four assists and three steals in the effort.