Tennessee OC Alex Golesh has accepted a head coaching offer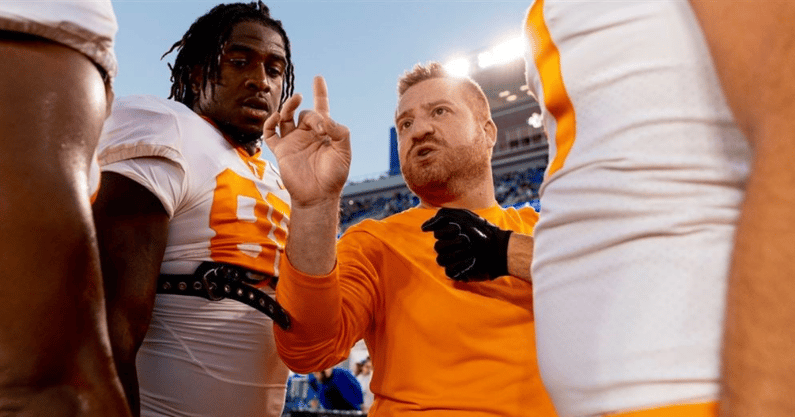 Tennessee offensive coordinator Alex Golesh has accepted an offer to become the next head coach at South Florida, On3's Matt Zenitz confirmed. Golesh, 38, coached a Tennessee offense that was one of the best in the nation in 2022.
The news was first first reported by The Action Network's Brett McMurphy.
Prior to serving as the offensive coordinator at Tennessee under head coach Josh Heupel, Golesh worked with him at UCF. Prior to that, Golesh had been an assistant at Iowa State, Illinois and several other schools.
Golesh takes over a South Florida program that has struggled to find success in recent years. The last winning season for the Bulls was in 2018, when USF went 7-6 in Charlie Strong's first year as head coach. Since then, South Florida is 8-37 in the four seasons.
Golesh had been connected to the Cincinnati job, too
Golesh was a potential prime candidate for the job opening at Cincinnati, according to Bruce Feldman of FOX and The Athletic.
Per Feldman, the Tennessee offensive coordinator is one of the premier names to replace the Luke Fickell-sized hole for the Bearcats.
"Golesh grew up in Dublin, Ohio, near Columbus, and began his career as a student assistant on Jim Tressel's staff at Ohio State," wrote Feldman. "He then helped Campbell get things rolling at Iowa State and before going to UCF with Josh Heupel.
"The 38-year-old, who handles play-calling duties for the Vols, had a key role in the prorgam going from No. 102 in total offense to No. 7 in 2021 to No. 1 this year. The Broyles Award finalist is another prime candidate."
Cincinnati is in a much better spot than when Fickell originally came to campus, having a College Football Playoff appearance on their resume and preparing to join the Big 12. If the Bearcats offer Golesh the opportunity, it could be too good for the offensive coordinator to turn down.
Over the course of his career, Golesh has never been the leader of a football team, but his fingerprints have been all over some of the top programs in the nation. As Feldman mentioned, he has experience at Ohio State, Iowa State, UCF and Tennessee, and has done a great job in every one of his stops.