Rick Barnes pleased with Tennessee's efforts after getting 'nonsense' out of the way vs. Duke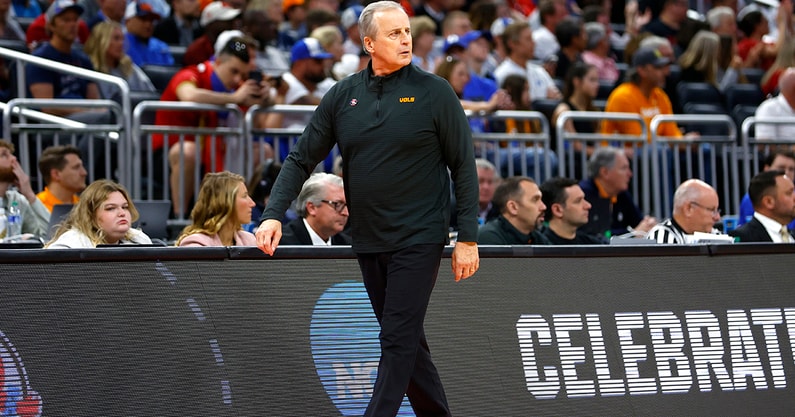 A strong Tennessee defense facing off against a hot Duke offense could make for quite a show in Saturday's Round of 32 matchup. Neither team created much separation early on, and Rick Barnes said his team found a groove after an up-and-down start.
Duke throws plenty of size at opposing teams, which can create headaches offensively. But Barnes said Tennessee can counter well, and the Volunteers did that once they shook off the "nonsense" in the early going. Now, he thinks his team can compete in what's shaping up to be an interesting matchup.
"Well, we've got good size," Barnes told CBS' Lauren Shehadi during a first-half timeout. "Once we settled in and we got the nonsense out of the way, I thought our guys, great effort. Great job on the out of bounds situations, and we've had good shots added. It's going to be a good, hard-fought basketball game."
Duke is without one of its top big men, though, after Mark Mitchell suffered a knee injury in practice on Friday and is "unlikely" to play Saturday, Shehadi reported early in the first half. Mitchell has started all 35 games for Duke this season, averaging 9.2 points and 3.2 rebounds per game as a true freshman. In the Blue Devils' NCAA Tournament opener against No. 12 seed Oral Roberts, he had eight points and seven rebounds to help his team to the 74-51 victory to get to the second round.
That means the Blue Devils might have to go by committee to replace Mitchell's production, and Shehadi listed some players who could step up in his absence.
"You mentioned Mark Mitchell not starting today because at practice yesterday, he landed awkwardly and he's having trouble moving his knee," Shehadi said on the broadcast. "Look for Jaylen Blakes and Jacob Grandison to cover. Ryan Young, as well. I'm told it's unlikely he'll in this game at all unless he starts to move it a little bit better."
Saturday's game between Duke and Tennessee appeared to be a grind-it-out game in the early going. Tennessee had a 13-10 lead at the time of Barnes' interview with 11:29 to play in the first half, and it remained low-scoring as the half went along. It's not totally surprising, though, considering the Volunteers held Louisiana to 58 points in the first round, nearly 20 points below the Ragin' Cajuns' season average of 77.4 points per game.