Rick Barnes proud of Tennessee players playing through illness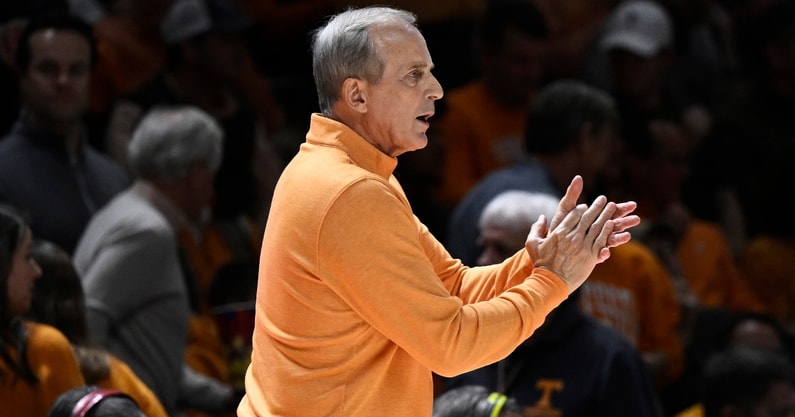 It's that time of year when teams are often dealing with illnesses. Rick Barnes and his Tennessee Volunteers are no different.
While Barnes was speaking to the media ahead of Tennessee's game against Georgia, he was asked if the Volunteers were finally healthy.
"Not totally," Rick Barnes said. "We still have some guys a little bit under the weather, but I think most teams go through it at some point in time. A lot, maybe, this time of year."
It would have been hard to tell that Tennessee was dealing with illness against LSU if you didn't already know. The Volunteers dominated the Tigers by a score of 77-56.
"But, the fact is that we've got some guys that when they're down, we've been fortunate to have some other guys take advantage of that opportunity and we're looking forward to everybody getting healthy, so we can get going and get some rhythm back to where we want to be," Barnes continued.
"I'm really, I said it the other day, but I'm really proud of our guys because we have some guys that were really under the weather and they fought through it and really gave us everything they could. We've got a couple of guys that I think are out today, but maybe by tomorrow we can get a good report."
Next up for Tennessee is a game against Georgia on Wednesday at home in Knoxville.
Rick Barnes on how Tyreke Key's game has evolved
Rick Barnes also praised Tyreke Key, a guard on Tennessee whose game has been going through an evolution.
"I think Tyreke has definitely added to his game in a lot of different ways. By nature, he's quiet … and his teammates love him. We put him in some situations this year that he's never been in. He's embraced [them], he's never backed down from any of it. We're fortunate that we were able to get him because he's been a big impact with our program," Barnes said.
"I thought he was terrific. Tyreke is one of those guys that's been under the weather. But, early in the game, they were out-rebounding us and he and Julian (Phillips) probably changed the rebounding."