Rick Barnes says Tennessee is 'excited' about Santiago Vescovi returning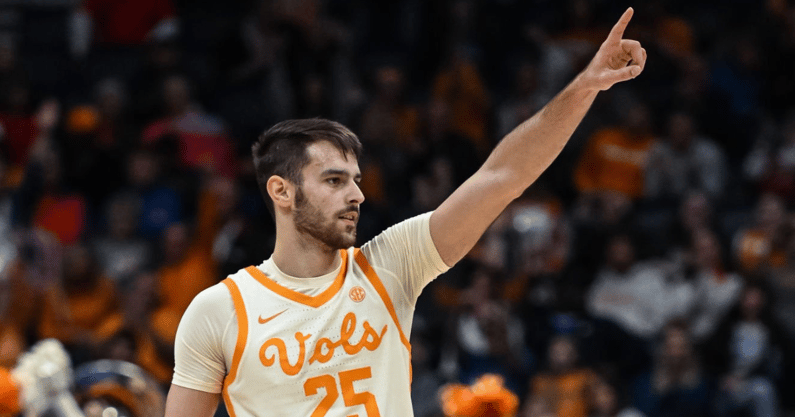 Tennessee entered the offseason with a lot of questions, especially considering they had several seniors who had decisions to make about a final season of eligibility. Now, as of this week, the Volunteers found out the answer from arguably the most important one as Santiago Vescovi announced that he would be returning to Knoxville.
With him officially back in the fold, Rick Barnes couldn't be more thrilled with what it means for his veteran guard, their program, and the fanbase. He said the enthusiasm is evident around town even though, based on what Vescovi had hinted at previously, this was an option that was very much on the table.
"We're excited. He's excited," Barnes said while participating in the Big Orange Caravan. "I remember, on Senior Night, he talked about how it might not be his last one. It gives us back a guy that has, arguably, been our most durable guy over the last four years."
"Santi loves the University of Tennessee, he loves Vol Nation. When I got up this morning and went to get my hair cut? Everybody at the barbershop was so excited about it," said Barnes. "We're excited and, certainly, his teammates are too."
This next season will be Vescovi's fifth as a member of the Volunteer's basketball program. Over his first four seasons, he has averaged 11.6 points, 4.1 rebounds, 3.2 assists, and 1.5 steals. Those came in 110 starts over 114 career games. Vescovi led the Volunteers in scoring last season and has finished as a top-six scorer in each of his years. He has also been huge for Tennessee from behind the three-point line. For his career, he is shooting a 38.1% mark from distance and averaging over 70 makes a season.
Vescovi has gained the respect of coaches around the SEC too. In each of the last two campaigns, they have named the Vol guard to the All-SEC First Team.
Tennessee still has some decisions to monitor when it comes to next season's roster. Still, having Vescovi back already is a huge win and should lead to even more success for Barnes' program come next year.