Rick Barnes updates health status of Santiago Vescovi, Tyreke Key after missing game vs. Mississippi State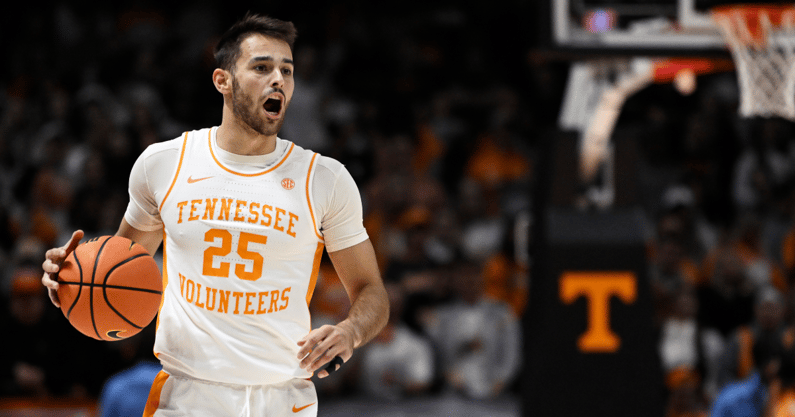 After guards Santiago Vescovi and Tyreke Key missed Tuesday's contest against Mississippi State, Tennessee coach Rick Barnes offered an update on their status. Speaking postgame, the coach revealed that Vescovi missed the game with a shoulder injury, while Key was out with an illness.
Vescovi re-injured the shoulder in Saturday's 63-56 loss to Kentucky. The Vols' leading scorer with 12.9 points per game, he previously missed two games after originally suffering the injury on Nov. 30.
"He got fouled in the game against Kentucky and yanked his shoulder," Barnes said of Vescovi. "That one loose ball there when he came off the screen. You can see it on tape where the guy grabbed him and that arm that was sore. It reaggravated it. He tried to get ready, but he just couldn't pick it up the way he needed to."
Tennessee had less time to prepare for Key, who was a late scratch to the game after he had a fever prior to tipoff. That meant the Volunteers found themselves down two starters, as well as missing the 9.1 points per game that Key provided.
"Tyreke did go through our shooting round," Barnes said. "We thought he was gonna play. Once we got back to the hotel, he had a temperature and it kept going up. A couple of coaches have been under the weather a little bit."
Despite the pair of injuries to Santiago Vescovi and Tyreke Key, Tennessee still came away with a 70-59 victory to bounce back from the loss against Kentucky. Zakai Zeigler stepped up in the absence of the two players, playing all 40 minutes to finish with 24 points, six rebounds and four assists.
"Again, we showed some great character," Barnes said. "I'm really proud of these guys. We knew coming here it was gonna be a hard game when we had everybody. We knew that. We expected it."
Tennessee improved to 15-3 overall and 5-1 in SEC with the win, currently sitting at third place in the league standings. The Volunteers will hope both Vescovi and Key can return to full health for their next matchup against LSU on Saturday.