Tennessee rules out Evan Russell for opening game of NCAA Tournament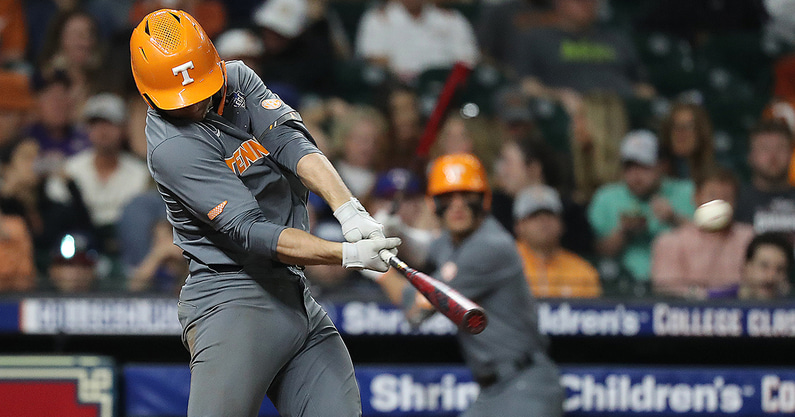 When Tennessee takes on Alabama State in the first game of the NCAA Tournament on Friday, it'll be without Evan Russell.
Russell isn't in the Volunteers' lineup for Friday's game, and head coach Tony Vitello is expected to further discuss Russell's future availability after the game, according to Mike Wilson of The Knox News.
Redshirt freshman catcher Charlie Taylor will start in Russell's place, Tennessee announced.
Russell is batting .299 this season with 13 home runs and 43 RBI to help Tennessee to a 53-7 overall record and a 25-5 mark in SEC play. The Volunteers are a No. 1 seed in the Knoxville Regional and will take on Alabama State Friday at 6 p.m. ET on the SEC Network. The winner of the matchup gets a date with either Georgia Tech or Campbell on Saturday.
How Evan Russell helped come up with Tennessee baseball's home run celebration
In 2020, Tennessee baseball started using a unique home run celebration. This year, the Volunteers made an addition to it — and there's a fun reason for it.
Tennessee has used the 'daddy' hat for the last couple seasons, and it got plenty of use this year. The Volunteers have hit 141 home runs this year, leading the nation, but decided to make a fun addition prior to the 2022 campaign.
That's where the fur coat came into the picture, and it's become a staple of the program. It first appeared before the season-opener, which Tennessee won 9-0 over Georgia Southern. Tennessee hit four home runs in that game, so it stuck around. But where did the coat come from?
It turns out catcher/outfielder Evan Russell was behind it.
"That is another Evan Russell creation," third baseman Trey Lipscomb said, via the Knox News' Mike Wilson. "He has the cheetah print pimp coat. We like it. Just put it on your shoulders or whatever."