Josh Heupel says quarterback Tayven Jackson was a big addition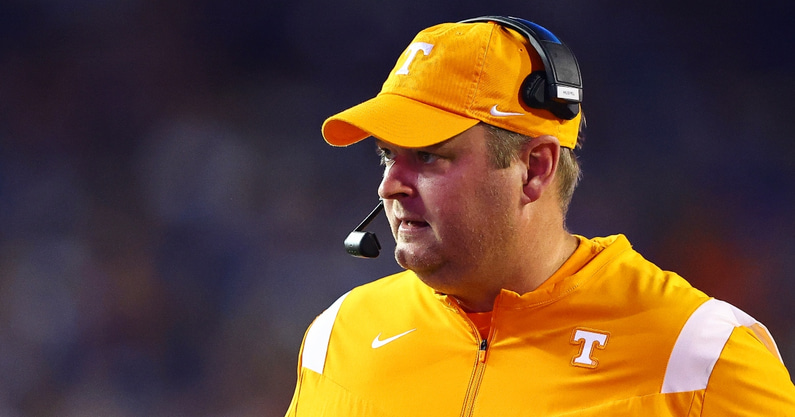 Although standout Tennessee quarterback Hendon Hooker is returning to Knoxville to play one more season with the Volunteers, head coach Josh Heupel has signed his quarterback of the future in Tayven Jackson.
A four-star recruit according to the On3 Consensus, Jackson – a Greenwood, Indiana native – officially signed his National Letter of Intent to play at Tennessee on Wednesday during college football's early signing period. A 6-foot-3, 189-pound prospect, Jackson signed with the Vols over offers from Texas A&M, Michigan, Missouri and Florida State, among many others.
During his National Signing Day press conference on Wednesday, Heupel was asked what Jackson brings to Knoxville.
"Two-time state champion, first of all," Heupel said of Jackson. "Comes from an elite program, understands the work habits that you have to have on a daily basis to go achieve something individually and collectively as a team. I think he's just scratching the surface of what he's going to be as a quarterback. Has the ability to use his feet, both in the pocket, out of the pocket, to make plays downfield as a passer, has the ability to use his feet as a weapon as well. I think that's only going to continue to increase as he gains confidence in his body.
"Very compact-type delivery. As he understands and learns some fundamental things, I think he's going to have the chance to spread the ball sideline to sideline. Elite basketball player – watched some of his basketball tape. Has a great spacial awareness, which is something I think's important. Really excited about him."
Tayven Jackson wants to put Tennessee back on top
Rain, sleet or snow, Tayven Jackson has received valuable experience in the past two seasons and made himself into a quarterback who is much more ready for the stage that Tennessee will provide. And it won't be long before Jackson gets to Knoxville to try and help coach Josh Heupel and the Volunteers turn things around.
"I'm just hoping to get in there and do my part and help them win and get back on top," Jackson said. "The goal is a national championship, and if you ask the coaching staff, that's their goal. So I'm ready to go in. In two months, I get there and I'm ready to compete for a spot. I'm just looking forward to just competing with my teammates and trying to put them on top again."