Tennessee offers 4-star S Kensley Faustin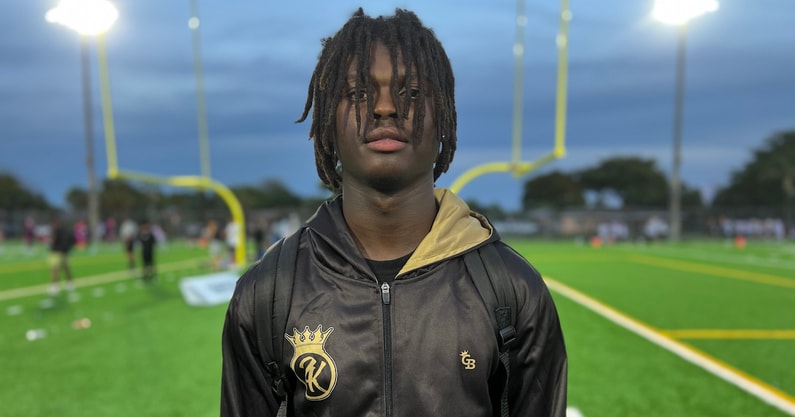 Naples (Fla.) four-star safety Kensley Faustin received an offer from Tennessee on Thursday. He announced the news over social media.
Faustin is the No. 272 overall prospect and No. 26 safety in the 2024 On300. He is also the No. 37 player in Florida.
Before the dead period, Faustin took visits to Miami and Texas A&M. According to the On3 Recruiting Prediction Machine, the Hurricanes are leading for his commitment at 32.2%.
"Right now, I'm sitting back and enjoying the process," Faustin told Billy Embody of The Bengal Tiger on Feb. 4. "Every school that's offered me, I have the same amount of interest as them. Soon enough, I'll be cutting down the list, take my official and ready to commit. I would love to commit before my senior season. I'm looking for a college that's going to help me become a better man and a college that's good at business because football doesn't last forever."
For more Tennessee recruiting intel, check out Volquest.
Faustin discusses five schools in his recruitment
Faustin also broke down his interest in multiple schools with Embody.
Alabama: "Bama's Bama. I've been talking to coach (Travaris Robinson). They like my film. They like how versatile I am. They saw me last week so we're going to see how that goes."
Auburn: "They didn't have a really good season, but it's Auburn so I know they're going to fix stuff. The new coaching staff has already re-offered me. I'm so versatile, they can put me anywhere. That's what they like about me. I'm going to pay them a visit and I like what they have to offer."
LSU: "It's just LSU. It's DBU. If you're a DB, it's the place to go. They know how to get guys to the league so that's what I like about them."
Penn State: "Penn State's on the come-up. I like what they do. I like how they get a lot of South Florida to go over there. Their DBs like Joey Porter Jr., their defense is on the come-up and they're going to be a top premier program. They only lost to Michigan and Ohio State. Other than that, they really had a good season. I really feel confident about Penn State."
Texas A&M: "Ever since they've offered me, they've been on my a**. They told me they would be. They told me I'm going to know it with how bad they want me. They came to my school three times. I'm on the phone with them consistently with four different coaches. They want me bad."