Tennessee QB coach Joey Halzle reveals state of off-field relationship between Hendon Hooker, Joe Milton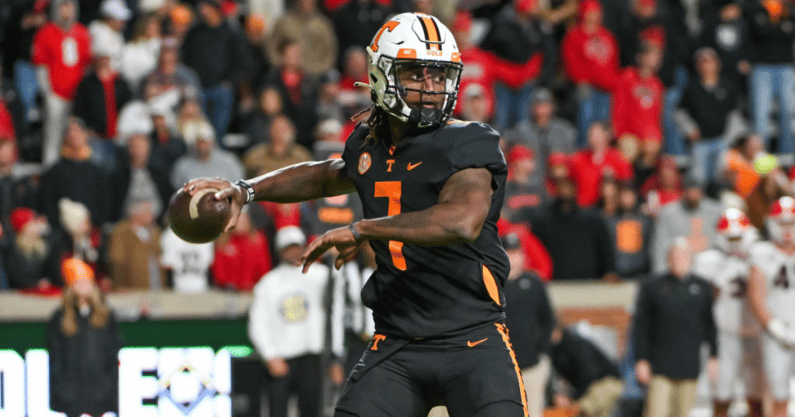 Over the past two seasons, Tennessee has managed to retain its top two quarterbacks without worry about a transfer portal exit. While Joe Milton got the nod to start 2021, Hendon Hooker ended up the man and carried his starting job into 2022 with many believing he can elevate his game as the season progresses.
Despite losing his spot, Milton has remained fully engaged and got another opportunity to showcase his skills in a blowout win over Ball State in Week 1. While not being the starter must hurt, Tennessee quarterback coach Joey Halzle told reporters that both guys understand what comes with each position and never take it for granted.
CLICK HERE to subscribe for FREE to the On3 YouTube channel
"It's extremely comfortable in there," Joey Halzle said about the quarterback room. "Joe and Hendon are really good friends. Like legitimately, off the field, extremely close friends. So they're happy for each other when they're doing well.
"We don't have Joe in there saying, 'I would've made that throw.' You don't have Hendon in there when Joe does something well saying, 'ugh, I hope they don't…' There's none of that. Hendon's our starting quarterback, he's our guy right now. Joe is extremely happy for all the success he has, and whenever Joe's in the game, Hendon's extremely happy for all the success Joe has. And that is a culture that coach Heupel has tried to cultivate from the day we got there in the entire locker room and it has absolutely permeated down into the quarterback room."
Joey Halzle on Hendon Hooker
Joey Halzle also discussed how he has seen Hendon Hooker progress and how their relationship has created an advantage for the whole team.
"Similar to what we talked about at the beginning of fall camp, Hendon's a completely different guy," said Halzle. His confidence, his fundamentals, his development. He's a completely different quarterback form the mental side, physical side, the entire aspect of playing the position. And that's why you've seen the success and the growth."
While his growth on the field has helped take Tennessee from a bad spot entering 2021 to a hot pick to challenge Georgia in the SEC East in 2022, the behind the scenes work he put in during the offseason to develop a better relationship with his coaches off the field has raised the ceiling for all involved.
"With Hendon, he's at the point right now, the way he's playing you've got an open book with him," said Halzle. "If you can call it, you feel comfortable he'll operate anything you put him out there. And the other thing is what we've talked about on his confidence side of it. He will now let us know if he's uncomfortable."