Tennessee hosting talented list of visitors this weekend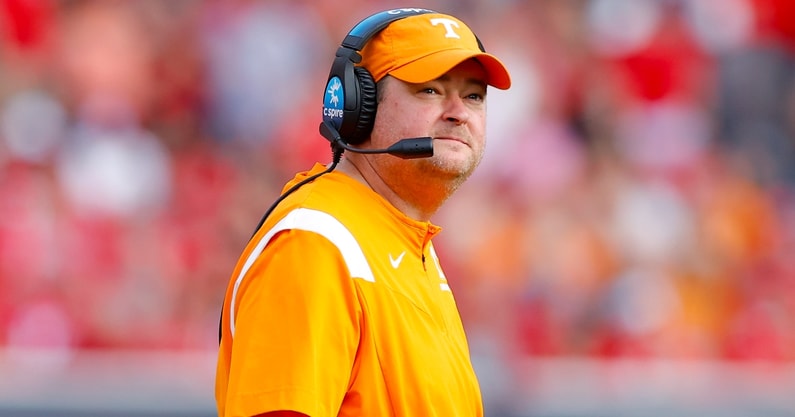 Few programs across the country have the kind of recruiting momentum Tennessee has right now.
The Volunteers are fresh off a top-15 class in 2023 and are pacing early for a top-10 class in 2024. Already with five commits on the board, Josh Heupel and Co. will welcome to town a strong list of visitors this weekend as they look to add to that total.
At the top of the list if four-star Roswell (Ga.) Walton offensive tackle Daniel Calhoun, who has become one of the top priorities along the offensive line for coach Brad Davis. The Vols, along with Georgia, Alabama, Clemson, Miami, and a handful of others are battling for Calhoun, the No. 74 overall prospect in the On3 Industry Ranking.
The mammoth 6-foot-6, 350-pounder has taken a liking to what he's seen from Tennessee's offense under Heupel.
"Tennessee's offense is really explosive," Calhoun told On3's Chad Simmons. "They're really fast-paced and I like that. It's really all about their offense and the coaching staff."
Top offensive tackles will also be in town
As they look to build a strong offensive line class around to top quarterback target Jake Merklinger — set to commit Thursday — Tennessee will have another elite big man in town with Santa Ana (Calif.) Mater Dei tackle Brandon Baker making his way out east.
Baker is coming off a visit to Nebraska last weekend and also has USC, Oregon, Texas, Ohio State, Miami, and Georgia among the contenders on his list.
The Ducks stand as the early favorites in his recruitment, according to the On3 Recruiting Prediction Machine (RPM). But the departure of offensive line coach Adrian Klemm for the NFL has shaken things up a bit, and Baker doesn't have a timeline for his decision yet.
Expected to be in town along with Baker and Calhoun is four-star Kankakee (Ill.) offensive tackle Marques Easley, another top line target for the Vols. He named Tennessee among his top 10 schools earlier this month and already has an official visit date locked in for this summer as well.
"These schools have not only gotten close to me, but they have really gotten to know my mom too," he told On3's Chad Simmons. "I am talking to each of these schools multiple times a week and these are coaches I think I could fit in well at."
Coveted defenders set to arrive in Knoxville
On the defensive side of the ball, Tennessee will also bring to town two more of its top targets: four-star linebacker Payton Pierce and four-star safety Boo Carter out of Chattanooga (Tenn.) Brainerd.
The Vols are battling Ohio State, Notre Dame and a handful of others for Pierce, but it's the Buckeyes who are standing out right now in the On3 RPM. As for Carter, Tennessee is considered a very strong contender to keep him inside the state. He already has four official visits penciled in, and the home school will receive one.
"They're coming really hard; the in-state school wants me bad," he told Simmons. "The staff shows love, Tennessee's fan base is crazy and it is a place I could stay home and play at. I hear a lot from them, and they move differently than the other schools. It is just different how they recruit me; the staff treats me like I am their guy and they want me. It is the whole staff — Willie Martinez is where it starts, but Tim Banks, Coach Pope, Coach Heupel, they are all coming for me."