On3 Recruiting Prediction Machine: Top targets trending toward Tennessee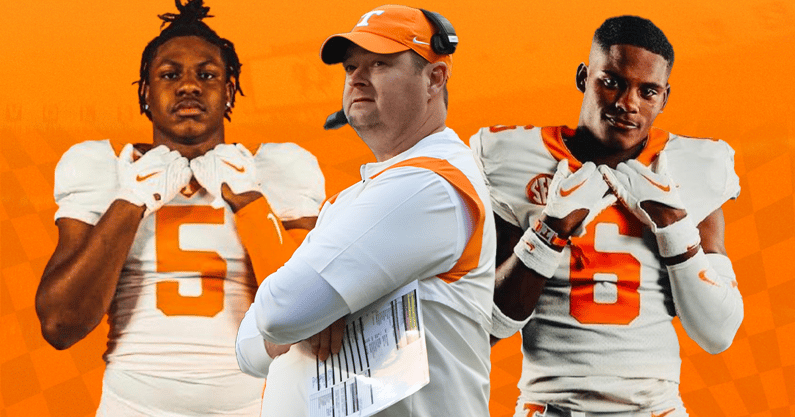 At this time a year ago, Tennessee was celebrating a commitment from five-star quarterback Nico Iamaleava, one of the bigger recruiting coups in recent memory for the Vols. But outside of him, Tennessee's class lacked in terms of other high-end prospects at that point.
They ultimately finished with the No. 12 class in the On3 Industry Team Recruiting Rankings, but missed on a couple of major targets down the stretch they were looking to flip or commit outright.
Now, after their best year in two decades on the field, Josh Heupel and Co. have plenty of on-field momentum to sell on the recruiting trail. They sit at No. 11 in the team recruiting rankings, but have some serious buzz with a few of the nation's top prospects heading into the summer.
4-star DL Kamarion Franklin
School: Lake Cormorant (Miss.)
On3 Industry Ranking: No. 36
On3 RPM: Tennessee 76.8%, Ole Miss 6.0%, Miami 4.3%, Alabama 2.9%
The Skinny: Kamarion Franklin is working to cut his list down to five with two official visits already locked in for the summer: Miami and Tennessee. The Vols got him on campus this spring for a multi-day unofficial visit and now sit in pole position, according to the On3 RPM.
"Coach Garner, Coach Chop and Coach Heupel all recruit me hard at Tennessee and they have multiple coaches who recruit me almost every day," Franklin told On3's Chad Simmons earlier this month. "I've visited Tennessee four or five times and it's great up there. Like Miami, the people at Tennessee are great and my relationships there are strong.
… They had a great season last year and that showed me a lot too. Coach Heupel has them going in the right direction and Tennessee always lets me know that I'm not just a want, but a need. They want to build that defensive line around me."
4-star OT Max Anderson
School: Frisco (Texas) Reedy
On3 Industry Ranking: No. 190
On3 RPM: Tennessee 64.1%, Michigan 33.2%
The Skinny: Max Anderson narrowed his list of offers down to eight schools back in March, but On3 national recruiting analyst Sam Spiegelman reports that it's a three-team race right now between Tennessee, Georgia and Oklahoma.
Anderson has already locked in official visits to Tennessee and Michigan next month, and the Vols are looking to pull off a major victory by landing one of the top players in Texas.
4-star LB Edwin Spillman
School: Nashville (Tenn.) Lipscomb Academy
On3 Industry Ranking: No. 274
On3 RPM: Tennessee 81.7%, Ohio State 7.3%, Georgia 3.6%, Florida State 3.0%
The Skinny: In-state star Edwin Spillman has been one of Tennessee's top targets for more than a year now. The Vols, along with Ohio State, Georgia and Florida State, will host him for official visits next month. But the local program continues to trend in the On3 RPM.
"Everything about Tennessee has stood out to me during this process," he said in April. "UT is an awesome program filled with great coaches and has an amazing atmosphere. They've been recruiting me since my freshman year so I've been able to build great relationships there."
4-star athlete Boo Carter
School: Chattanooga (Tenn.) Brainerd
On3 Industry Ranking: No. 233
On3 RPM: Tennessee 92.3%, Michigan 2.7%
The Skinny: The do-it-all Boo Carter is another in-state prospect who the Vols have been high on for a long time. And the feeling is mutual. Michigan and Colorado are also still threats, but the longstanding relationship he has built with Tennessee's staff will be hard to overcome.
"One source said, 'Boo's bond with Tennessee is just on another level,'" On3 Director of Recruiting Chad Simmons said this spring. "That comfortability, Tennessee being close to home, the opportunity he sees to make an impact early and the direction of the program in Knoxville has me confident enough to say the Vols are the favorite to land Carter."
4-star RB Peyton Lewis
School: Salem (Va.)
On3 Industry Ranking: No. 197
On3 RPM: Tennessee 94.0%, South Carolina 2.7%
The Skinny: Peyton Lewis narrowed his list of top schools down to six earlier this month, a list that includes Alabama, Florida, Georgia, Penn State, South Carolina and Tennessee.
After a handful of picks in the Vols' favor from elsewhere in the recruiting industry, Tennessee holds a strong lead that just might be too tough for other programs to catch up to.