Josh Heupel gushes over Tennessee fans selling out Neyland Stadium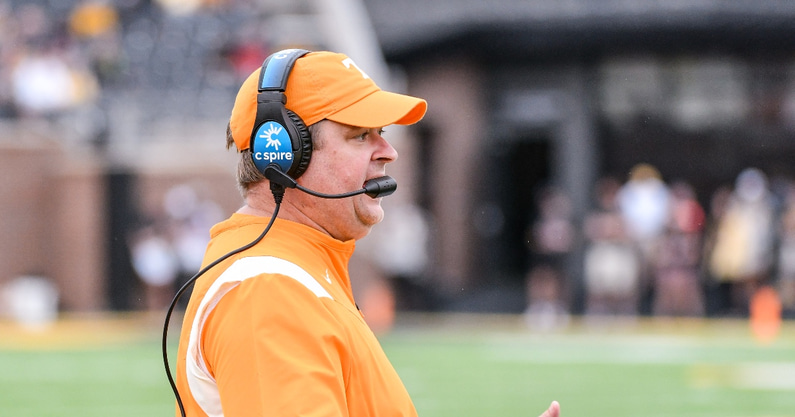 Tennessee head coach Josh Heupel challenged fans to show up and show out for Saturday's primetime matchup against Ole Miss. After Volunteer fans sold out Neyland Stadium, Heupel gushed over the "greatest fanbase in America."
"We've got the greatest fanbase in America," Heupel said on Wednesday's SEC coaches teleconference. "That's why our stadium looks the way that it does. For them to recognize what's going on the field, as far the effort and strain and progress that our players are making, excited for that. Yeah, personally excited to go through the Vol Walk and see about 45,000 fans there, and then come out to a checkerboard stadium that is packed out. But excited for our players. The effort they've put in during the eight and a half-plus months that we've been here. Exciting opportunity for our players. After the football game last week, and this week too, our fanbase has to play a part in this football game. They have to make it extremely difficult for them to communicate and help us on Saturday night. Looking forward to that environment."
On Monday, Tennessee athletic director Danny White announced that 'Checker Neyland' will return for the first time in over four years. Tennessee had not sold out a game yet in 2021, until now. 
Josh Heupel has led the Volunteers to a 4-2 record six games into his first season in Knoxville. Tennessee enters Saturday matchup after two consecutive impressive offensive performances. Against Missouri, the Volunteers scored 45 points and garnered 425 total yards, all while holding the ball for less than 12 minutes in the first half in the first two quarters of play on Saturday. 
The Volunteers followed it up with a 28 point first quarter against South Carolina, on the way to a 45-20 victory. Tennessee sits at 4-2 ahead of a matchup with Ole Miss that could vault the Volunteers into the top 25. 
Tennessee has outscored opponents 101-13 in the first quarter this season. In the last two weeks alone, the Volunteers have scored 83 combined points in the first half.
Saturday will serve as Lane Kiffin's return to Tennessee for the first time in 12 years, when he left the program overnight, with a bitter taste in its mouth, to take the head coaching job at USC.
During his Monday press conference, Kiffin addressed his return to Neyland Stadium and whether there's added pressure from the opposing fans.
"I would think that, I think you would think that would normally be the case," said Kiffin. "But there's two things here: One, it's a long time ago, and two – we've done this thing."
This isn't the first time Heupel and Kiffin are coaching opposite squads on game-day. The two men coached against each other in both 2018 and 2019 — when Heupel led Central Florida, and Kiffin was the head coach at Florida Atlantic.
In those games, Heupel got the best of Kiffin's underdog Owls. First, Heupel's Knights escaped an upset bid by defeating FAU by a score of 56-36 in 2018. The second matchup wasn't as juicy, as Kiffin's squad fell once again by a score of 48-14 in 2019.
On Saturday, Josh Heupel will look to go 3-0 against Kiffin. If the Volunteers can knock off No. 13 Ole Miss, in front of a sold out Neyland Stadium, Tennessee would likely jump into the top 25.