Josh Heupel: Mature, talented Hendon Hooker has adapted throughout season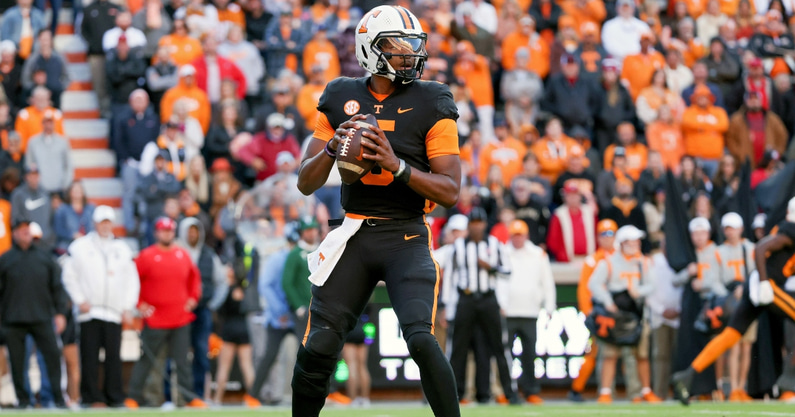 When Tennessee head coach Josh Heupel originally announced the starting quarterback, he went with Michigan transfer Joe Milton. Thanks to an injury, Virginia Tech transfer Hendon Hooker was named the starter heading into the South Carolina game on Oct. 9.
Since then, Hooker has been playing at a high level. The 3-3 record may as otherwise on paper, but the losses have come against Alabama, Georgia, and Ole Miss — all three of which are ranked inside the top 10.
Heupel was asked how Hooker has evolved over the past six games as the starter. The head coach said the entire team has grown over the season and the quarterback has been a big part of that.
"I think for Hendon (Hooker) at first, for who he is, everybody sees his work ethic and his ability to relate and communicate and lead the players around him," Heupel said. "As he's played more, he's continued growing — comfort and understanding — the little things have added up to the big things that equal success at that everybody can see. The quarterback position is really important. It's really hard to be successful when you don't have a high playing at a high level. At the same time, it takes talent in the guys around him to maximize what he is able to do.
I think our players have continued to grow. You guys have seen us incrementally get better throughout the course of the season. He's been a big part of that and but so are the other guys around him."
Josh Heupel on Tennessee's expectations
Moving on from Jeremey Pruitt, not many knew what the expectations for the Volunteers should be. The schedule was as difficult as it's ever been, having Alabama as the permanent cross-division rivals.
Heupel said his staff tried to not listen to expectations from outside of the program. The head coach "never placed a ceiling" and where they could end up at the end of the season.
"I think outside expectations, outside noise is something that myself and our staff have tried to not pay attention to. I think our players have bought into that as well," stated Heupel. "From the moment that I got here, I never placed a ceiling on what our football team could do.
"We're in a race against ourselves. I'm so proud of the growth from the first day when I got here to who we are now. Certainly want some things to be better as a coach, but the growth of individuals and collectively as a team is really special. We've laid a great foundation to what we're going to be in the future."
Tennessee has one more game remaining on the schedule against in-state rival Vanderbilt. They can finish with a winning record for just the second time in five years with a win.