USC wide receiver Bru McCoy announces transfer to Tennessee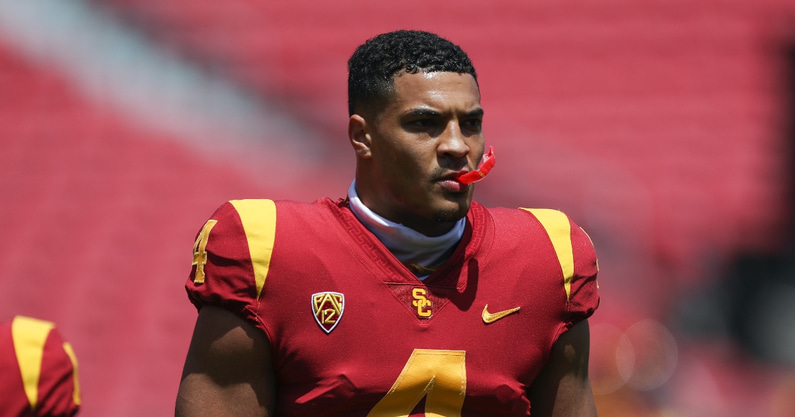 Former USC Trojans wide receiver Bru McCoy has announced where he will be playing college football going forward, with the Tennessee Volunteers winning out. The former five-star prospect will be leaving the USC Trojans to join the SEC program.
McCoy did not feature for the Trojans last season but did play in six games in 2020. He made 21 receptions for 236 yards and two touchdowns. After dealing with some off-the-field issues and USC going through a coaching change, the wide receiver decided to enter the transfer portal.
Tennessee hosted the elite wide receiver back in April for an unofficial visit. Head coach Josh Heupel has been looking for an impact player at the position to help out quarterback Hendon Hooker. If McCoy can find his way back onto the field, the Volunteers will have a player with a lot of potential.
McCoy and his off-the-field issues stem from an arrest on suspicion of felony partner intimate violence with injury.
The violation is listed under California Penal Code section 273.5(a), pertains to a person who "willfully inflicts corporal injury resulting in a traumatic condition" upon a spouse, former spouse, cohabitant or dating partner. Per the Los Angeles Times, McCoy was released the same night on a $50,000 bail and he appeared in court on Nov. 24. After the Los Angeles County district attorney's office reviewed his case, it ultimately concluded that there was insufficient evidence, and McCoy did not face any charges related to the incident.
According to the On3 transfer portal rankings, McCoy was the No. 13 wide receiver to go through the cycle and was one of the top available. Only two other players at his position were uncommitted or not enrolled at a school, proving to be a huge win for Tennessee.
Coming out of high school, McCoy was a five-star prospect according to the On3 Consensus, a complete and equally weighted industry-generated average that utilizes all four major recruiting services. He ranked as the No. 3 wide receiver in the country and the No. 2 player in his home state of California.
Hopefully, for McCoy, this is his final destination in college football after also previously being at Texas. Tennessee will hope he can turn into a productive receiver inside the SEC. Playing with an offensive coach such as Heupel will help as results showed last season. Hooker finally has a top target to play with on Saturdays.