Tony Vitello has intriguing answer when asked where Tennessee stands talent wise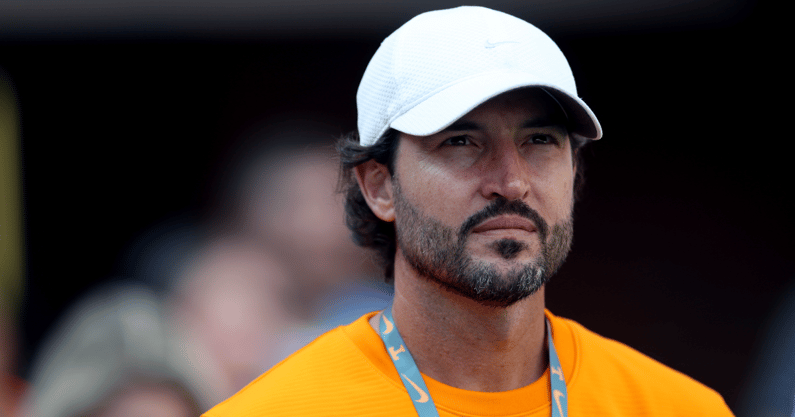 Coming off of a strong 2022 season, Tennessee baseball coach Tony Vitello once again has the roster loaded with talent. Pitcher Chase Dollander and transfer shortstop Maui Ahuna rank among the top prospects for the 2023 MLB Draft according to MLB.com, just two of many Volunteers well on their way to a pro career.
But Vitello knows that star power doesn't always equate to victories. He pointed to last year's team as an example of several players who weren't highly touted coming into Knoxville, but played their way onto an MLB roster through their commitment in college.
"Prospect-y, probably," Vitello said of this year's roster. "Prospects are what scouts are looking for when they come here. In the big leagues, you probably can only make a team up of so many grinders. Even an organization like the Rays that makes the most of their money — I mean they've got guys that are super talented whether it's big velo on the mound or really physical and really can handle a bat, can really run. You can win in college baseball with guys that just want to compete for their teammates and make the most of their opportunities in the weight room, or with nutrition plan or sleep.
"I think people would be astonished if they had the complete biographies of those guys that started for us last year. What they were ranked as high school guys, how much scholarship money they were on. I don't know that it was the best prospect group, but they proved that if you win, everybody gets what they want. You continue to play, get more accolades, more gear, more per diem on the road — whatever the allotted amount is — and then maybe you get drafted a little higher, too."
Last year's group led Tennessee to a 57-9 finish, an SEC Tournament championship and the No. 1 overall seed in the NCAA Tournament. They would go on to lose to Notre Dame in Super Regional play, however, missing the College World Series.
The Volunteers also set a program-record with 10 players drafted in the 2022 MLB Draft. They have now had 27 players drafted since 2018 when Tony Vitello took over as head coach, averaging just over five picks per year. Since 2019, Tennessee's 26 selections ranks third amongst SEC teams in that span.
That is no accident, as Tony Vitello said the Tennessee staff has "gone out of our way" to ensure those opportunities for the players. He'll hope to continue that trend this season and in the many that will follow.
"This group is pretty interesting as it related to the MLB Draft and the prospect situation," he said. "We've gone out of our way, just to be honest with you, to try and help guys with getting to the next level (and) being prepared. We have not had a guy turn down a major league offer since we've been here whether it be in the draft or a free agency deal. Sometimes it takes two to tango — our staff and an MLB organization's interest — to make that work out with a kid."