Tony Vitello praises Tennessee for response in second game of doubleheader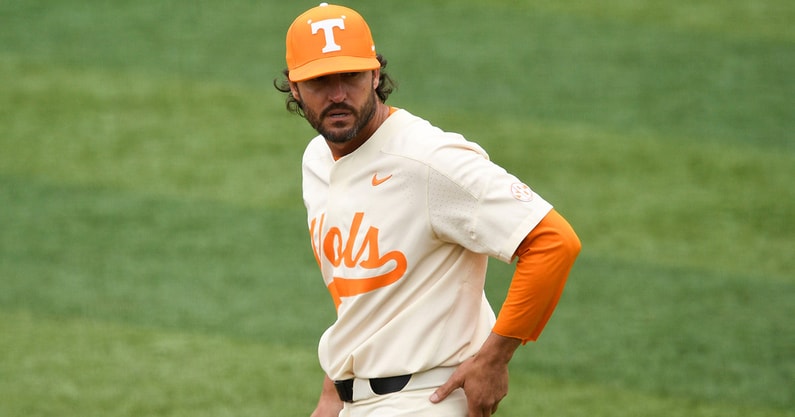 No. 18 Tennessee clobbered No. 13 South Carolina 12-1 in game two of a seven-inning doubleheader Saturday night. It rounded out the Vols' regular season with their first SEC road series victory of the year.
The Vols didn't have the same luck during game one's loss. After a strong showing in game two, head coach Tony Vitello credited his dugout's energy for the major turnaround despite their squad scoring just one run in the first 10 innings of baseball they played on Saturday.
"It's a grudge match. When [Chase Burns] has come out of the pen for us the last few times, it has electrified our crowd when we're at home, but also our dugout and our guys are into the game," Vitello said after game three's victory. "It's a back and forth deal.
"Very easy to be dejected and disappointed [after game two] which I think they were, but then after a while the guys started to loosen up and just talk about what they had in front of them, so all of those things combined was a good formula."
The first game was knotted at one run in the sixth, but five Gamecock runs in the bottom of the inning built an insurmountable lead with only three outs for the Vols to work with. They cut their losses and headed back to the drawing board with a loss that tied the weekend series.
Both teams could not buy a run during the first three innings of the second game, but the Vols would go on to score at least one run in every inning for the rest of the day. They scored four runs in the fourth innings and six more in the seventh. DH Griffin Merritt, CF Christian Scott and C Cal Stark all went yard during the matchup.
"Physically and mentally, [we've] been about everywhere," Vitello said. "The one box we hadn't really checked was to win two out of three on the road, whether it be in Arizona or a conference game, we did that. I think we did it because of all of the things that preceded it, allowed the guys to put themselves in position to just kind of reset."
To round their regular season off with their first conference road series victory of the season is the perfect way to keep spirits up in the locker room ahead of Tuesday's single-elimination SEC Tournament matchup against 10-seeded Texas A&M.
No. 7 seed Tennessee and the Aggies will play in Game 2 at 1:30 p.m. ET with the winner advancing to play No. 2 seed Arkansas in the quarterfinals, which will be double elimination. All first-round tournament games will be broadcasted on the SEC Network.