WATCH: Velus Jones turns screen pass into 35-yard Tennessee TD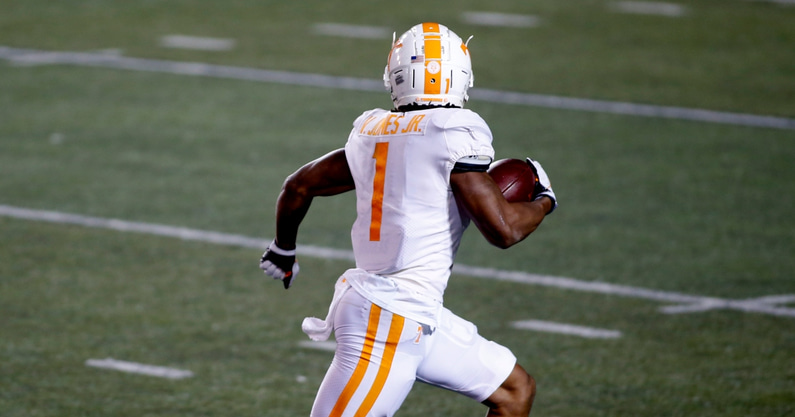 Tennessee is off to a fast start against Missouri. In the second quarter of Saturday's game, Tennessee quarterback Hendon Hooker threw a screen pass to wide receiver Velus Jones. Jones then made multiple defenders miss, and found a way to take the play 35 yards to the end zone for a Tennessee touchdown. The score gave Tennessee a 35-10 lead.
The touchdown was the third reception of the day for Jones. It gave him three receptions for 49 yards and a score so far on the day. Jones has also returned a kick 21 yards and a punt one yard in the early stages of the game.
Hendon Hooker completed six of his first seven passes of the game for 120 yards and two touchdowns. Tennessee running back Tiyon Evans has rushed for 118 yards and three touchdowns on his first five carries in the game.
Jones is in his sixth season of college football
Coming into this week, Jones has caught nine passes for 160 yards and a touchdown for Tennessee. He is also averaging 25.4 yards per kick return. Jones is in his second season with Tennessee after spending the first four years of his career at USC. Last season, he caught 22 passes for 280 yards and three touchdowns. In his career, Jones has caught 67 passes for 787 yards.
Jones only saw the field in one game in his freshman season at USC in 2016. From 2017 to 2019, he caught 36 passes for 347 yards and a touchdown. Throughout his six seasons in college football, Jones has returned 110 kicks for 2,624 yards and one score. He is averaging 23.9 yards per return. He also has three punt returns for 32 yards.
At USC, Jones received All-Pac-12 Second Team honors in 2017, 2018, and 2019. He also received First Team honors in 2017. In his first season at Tennessee last season, Jones earned All-SEC Fourth Team honors.