JD PicKell: Dont'e Thornton is the best kept secret in the SEC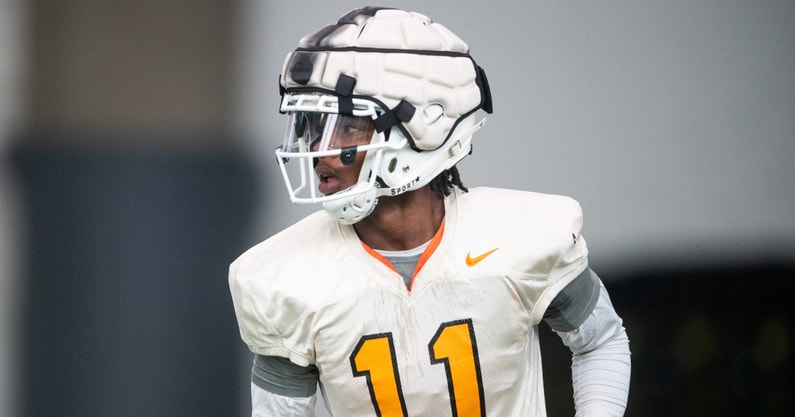 Tennessee has some key offensive weapons from last season who are now on NFL rosters. Hendon Hooker, Jalin Hyatt, and Cedric Tillman will not be Vols next season, leaving head coach Josh Heupel will a few holes to fill. Oregon transfer Dont'e Thornton has a chance to be the answer to one of those.
On3's J.D. PicKell says Thornton is the "best kept secret" across the SEC heading out of spring practice. And that's exactly what everyone involved with the Tennessee program wants, not bringing too much hype to the table. At some point though, Thornton will not be able to fly under the radar.
"There's one individual who I think might be the best kept secret in the SEC," PicKell said. "And that's Don't Thornton. Transferring in from Oregon. He's 6-3, I think he's somewhere in the neighborhood of 200 pounds. He's got that size and he also can fly. Everybody in Knoxville is speaking in hush tones because they're excited what he brings to the table. They don't want to tip off the national folks just yet about what he's going to be."
Thornton played in 11 games for Oregon last season, having just 17 receptions. He made the most out of those, though, going for 366 yards and a touchdown. An impressive average 21.5 yards per catch is something Tennessee will take.
"For Tennessee to achieve the same type of statistical prowess that they had in 2022, it's going to be because Dont'e Thornton steps up and achieves what a lot of us thinks he can achieve with his playmaking ability and the issues that he presents to the defense," PicKell said.
Heupel likes the speed Thornton has, along with position versatility. There will be multiple different places the wide receiver can be placed. With how many different guys Tennessee has at their disposal, Joe Milton is going to have defenses scrambling in the fall.
"Think about it this way," PicKell began. "If you have Dont'e Thornton, Squirrel White, Bru McCoy — all on their A-game — and then Joe Milton is a version of what we saw in the Orange Bowl… That is too many issues for a defense, too many issues for a secondary to try to keep up with."
If Thornton performs like PicKell believes, he will not be a secret a few games into the season. Opposing defensive coordinators are going to have to gameplan for all of the different weapons Heupel throws onto the field. Based on how it went last season, good luck to them.