WATCH: Texas A&M QB commit Eli Holstein reacts to Aggies' win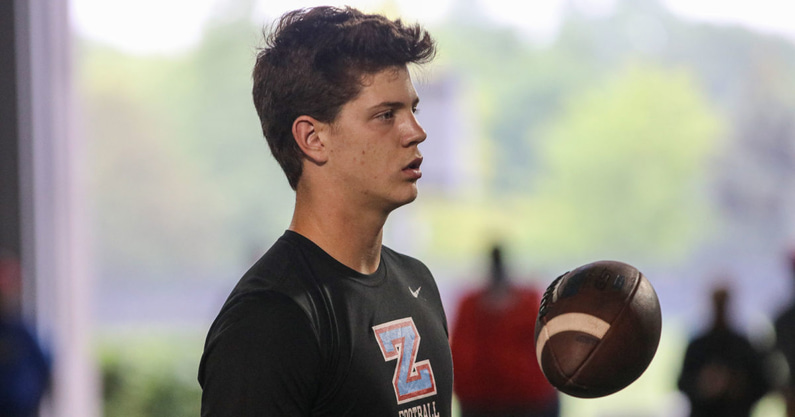 Zachary (La.) High 2023 quarterback Eli Holstein has been committed to Texas A&M since July. But the atmosphere he saw Saturday night when the Aggies shocked No. 1 Alabama 41-38 was unlike anything he'd ever seen.
Holstein, the No. 62 overall player in the 2023 On100 rankings, talked to On3 Director of Recruiting Chad Simmons about his visit and what the atmosphere was like in the stands and on the field.
"I don't think you can really describe it in words," Holstein told Simmons. "Just the whole atmosphere and seeing how packed the stadium was. They announced how many people were there in the third quarter, and they said 107,000 people were at the game. I couldn't see an empty bleacher, chair or anything.
Eli Holstein doing his part in recruiting
As one of the centerpieces for Texas A&M's 2023 class and one of four players committed to the Aggies in that cycle, Holstein has been recruiting hard. He said he and the other recruits who were at the game Saturday were really impressed by what they saw.
"It was pretty awesome to see all of us recruits take it in," Holstein said. "Especially the line guys we're trying to get. I'm really focusing on the offensive line class right now because they're the ones protecting me. … I feel like that whole game really helped us out a lot with recruiting, and it's going to show a couple weeks from now."
2023 offensive linemen Isaiah Robinson and Harris Sewell are a pair of four-stars that are high on Texas A&M's list and are likely to hear from Holstein quite a bit.
2022 stars in attendance at Texas
Although Holstein has a big focus on the offensive side of the ball, he was also joined on the visit weekend by some of the biggest names in the 2022 class on defense. Five-star defensive lineman Walter Nolen (No. 6 in the On300) was on campus, as was four-star DL Bear Alexander (No. 33).
Scottsdale (Ariz.) Chaparral five-star Anthony Lucas (No. 13 in the 2022 On300) also accompanied the group. The Aggies are thought to be the favorite for Alexander and are major contenders for Nolen's commitment as well. Simmons said last week that based on his intel, the Aggies are the school "everyone else is chasing."