Why Johnny Manziel deserves to be ranked as top ten college QB since 2000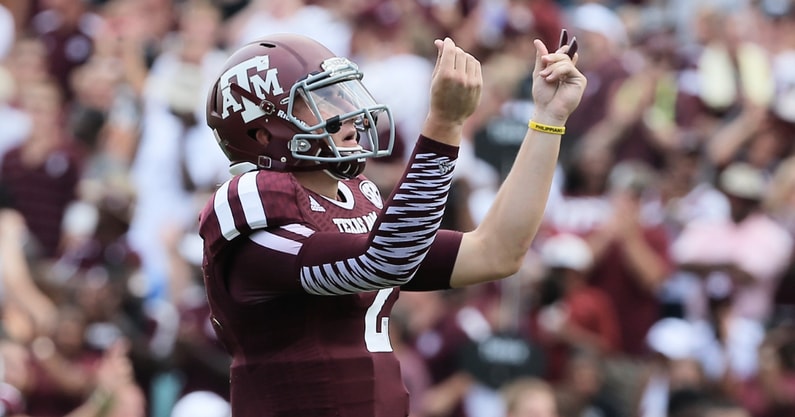 It is a tough task to rank the top 10 college football quarterbacks since 2000, and some elite QBs were sure to be left off. With that said, On3's JD PicKell believes ESPN made a sizeable error in leaving off former Texas A&M star Johnny Manziel.
The 2012 Heisman trophy winner had an incredible college career, accounting for nearly 10,000 yards of offense and 93 touchdowns during his two seasons as a starter.
However, Manziel came in at No. 13 on ESPN's list. He is behind some quarterbacks who were undoubtedly very good but not as good as Manziel in PicKell's eyes.
"Here's my number one gripe with this, and this jumped right off the page as I saw it scrolling on Twitter – Where in the world is Johnny Manziel in this top 10? They had Johnny Manziel at No. 13 on this list. And I about had an aneurism. Like legitimately," PicKell said. "Let's just go back to the thing that we can trust. The thing that does not play favorites. And that's the stats. Let's look at number 10 – Robert Griffin III, right from my backyard, where I moved from. I was living in Waco, Texas for the better part of the last three years. There's a statue of Robert Griffin III out in front of McLane Stadium, and for good reason. Was phenomenal. But Johnny Manziel should be ahead of RGIII."
As mentioned, Manziel had nearly 10,000 total yards and 93 touchdowns during his two years as a starter. For comparison, Griffin had nearly 900 fewer total yards and 16 fewer touchdowns than Manziel during his two best years.
Manziel also had a few magical moments during his career, including beating No. 1 Alabama in Tuscaloosa in 2012. That's not to say Griffin didn't have great moments, too, but nothing that competes with that.
"Johnny Manziel, when we saw him playing the game, he was one of those guys that just took over. The memory of him beating Alabama in Tuscaloosa, and the bobble and the throw and all of that. That's phenomenal. But there were multiple times where if Johnny Manziel isn't playing quarterback for Texas A&M, they're not even in the ballgame," PicKell said.
"Like the Chick-Fil-A Bowl against Duke when he's hurdling over dudes and jumping left and throwing right. He just was someone that took over games. I'm not saying RGIII didn't do that, but to look at the numbers, to compare that with how you felt about Johnny Manziel when you watched him play football, there was nobody better on the field than Johnny Manziel when he was on the field. Period. The end. Mic drop. That's how we feel about it."