Jimbo Fisher responds to string of questions on starting quarterback decision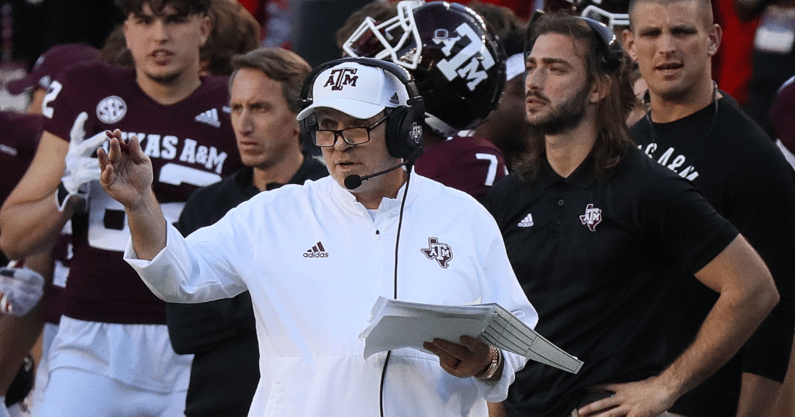 No starting quarterback has been named for Texas A&M yet. The season opener against Sam Houston State is just over a week away but head coach Jimbo Fisher has not made a decision. After there was some thought an announcement could come on Wednesday, Fisher wound up not revealing anything.
"I haven't told you who our starting quarterback is," Fisher said with a smile.
Fisher said the announcement will come when he's ready. Two guys are considered front runners for the Aggies in the competition, with LSU transfer Max Johnson and Haynes King battling it out. True freshman Conner Weigman is in the mix as well after arriving on campus this spring.
Even without naming a starter, Fisher is confident in his quarterback room. He said they have a "good idea" of how each of the three stands on the depth chart. Making the formal decision will come whenever he wants to.
"I know we have a good idea of what's going on, how it's going on," Fisher said. "We watch practice every day and we'll announce it when we're ready."
Jimbo Fisher learning about all three quarterbacks
Fisher said a positive about all three quarterbacks performing well during fall camp is what he's learning about each of them. The Texas A&M head coach said Johnson, King, and Weigman have taught him how to call a game if they were the starter. He also pointed out having depth at quarterback is always a positive.
"I don't know if it makes it more difficult," Fisher said. "It makes you more confident in the scenario of things that go on. Let's say you have a multitude of guys that you think can play well and do things — you're learning each guy. What he does well, what he doesn't do well.
"How you would call the game for him, how you call the game for him, and then how you call the game for the third. I think all three are growing. Like I say, when you have depth and you have guys that can play, it's a very good thing. Especially at that position."
King was named the starter before the 2022 season but suffered a season-ending injury early on. Since Zach Calzada was there in relief, the Aggies were able to continue their season and get a crucial program win over Alabama.
Now, no matter who the backup is, there will be a quality player if injury occurs. Fisher knows how important that could be in the middle of the season.