Jimbo Fisher calls out SEC officiating, Auburn for calling out snap counts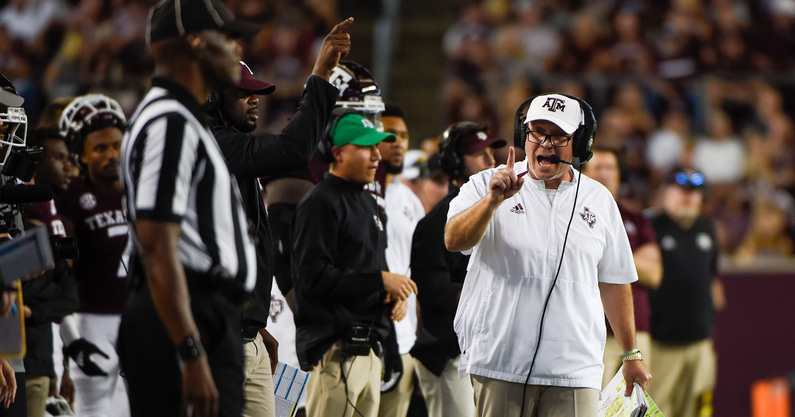 No. 12 Auburn's hopes of winning the SEC West were crushed by Jimbo Fisher and No. 13 Texas A&M on Saturday, as the Aggies put on an elite defensive showing — and, in the process, strengthened their chances of winning the SEC West themselves — prevailing 20-3.
In truth, both Auburn and Texas A&M played excellent defense in front of 100,000-plus fans at Kyle Field. The first half was nearly as stagnant as can be; it featured a combined eight punts and, after both kickers made one field goal, they went into the locker rooms for halftime tied at three apiece.
Fisher's Aggie offense caught a second wind in the second half, eventually finishing with 409 total yards of offense, enough to score 20 points and solidify a victory. Auburn, however, had just 226, including only 153 passing yards, one interception and one lost fumble. After the game, Fisher was far from pleased with Texas A&M.
It wasn't just the lackadaisical offense that frustrated Fisher. Instead, it was the SEC officials, who he claimed didn't throw a flag on any of Auburn's attempts to spoil Texas A&M's snap count.
"But you know what gets me, you can [clap] and get a delay of game, but you can call a snap count and it ain't a penalty," Fisher said postgame. "Isn't that amazing? When you're down there on the goal line and they call out your snap count. I mean, I'm sick and tired of it, man. You're gonna call all that garbage and not do that?"
Fisher said that Auburn defenders were clapping and intentionally throwing off the Texas A&M offensive line, prompting multiple false start calls, particularly in the red zone. On one specific possession, Texas A&M quarterback Zach Calzada had a first-and-goal with a mere few yards before punching it in for six. However, Texas A&M committed back-to-back false starts, forcing the first-and-goal into a second-and-goal — and at that point, they were backed up over 20 yards and had exited the red zone. Fisher said that these penalties were due to Auburn clapping and throwing off the snap count.
"'Well, I couldn't hear it,'" Fisher said, repeating what the referees told him. "Trust me, I'm gonna call [the SEC office] tomorrow. We're going to have a conversation. … But you call it for Alabama third-and-8 when they're driving to win it. I'm sick of it, I thought it was supposed to be fair."
Despite the penalties and despite the otherwise sloppy performance, Texas A&M managed to pull off a huge home win over Auburn. Now, Fisher and the Aggies have another challenging task ahead, as Texas A&M travels to Oxford, Mississippi to face the No. 16 Ole Miss Rebels.