Jimbo Fisher: When College Football Playoffs expand, NIL will rein in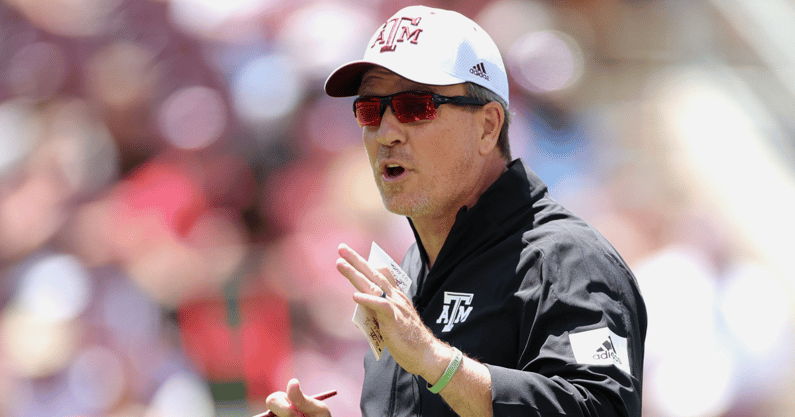 Expand the playoffs, and the reach NIL will have over college football will be monumental, according to Texas A&M head coach Jimbo Fisher. Not being the biggest advocate for the changing landscape of collegiate athletics in regard to NIL and the transfer portal, Fisher knows an expanded playoff is yet another way to bulk athletes pockets while in college.
"The playoff is going to expand … when TV gives [the College Football Playoff] money, they are going to expand," Fisher said. "With time, I think we will rein NIL in. I think it will take government intervention."
"God help us," he added.
Continuing his discussion, Fisher shared that he feels there will sooner be rules and regulations regarding NIL and the transfer portal put into place at some point, but made it clear that there's no set timeline as to when that could happen.
"It's inevitable that something's happening and going to happen," Fisher said. "There's a change right now that we're going through – daily, weekly, monthly, hourly. It goes like crazy. Could there be something like that? It wouldn't shock me. But I still think there's a lot of moving parts that have to be put in place before things like that happen … That's what commissioners and ADs are for … We're here to try to recruit and coach and do what we've got to do."
The Aggies brought in the No. 1 recruiting class in the country this year, according to the On3 Consensus Team Rankings. Some around the game brought up NIL as a reason Texas A&M had that kind of success, including Ole Miss coach Lane Kiffin.
The conversation came up again after Five Star Plus+ recruit Lebbeus Overton reclassified from the Class of 2023 to the Class of 2022, and Fisher made it clear he tunes out the noise.
"I don't worry about it, I don't think about it," Fisher said. "Who cares? The only thing I ever said before was because it was directly pointed at us. Do I think NIL is an issue out there? Yes. Do I think [the] transfer portal's an issue out there? Yes, and how it goes on and what the regulation [is]. There's no doubt.
"But those were pointed figures right at us is why I made those statements because that's unfair to the kids who got recruited, that's unfair to their families and that's unfair to the staff that recruited them. And that's unfair to Texas A&M. That's the only reason I brought that up."