Jimbo Fisher discusses impact of SEC expansion on LSU rivalry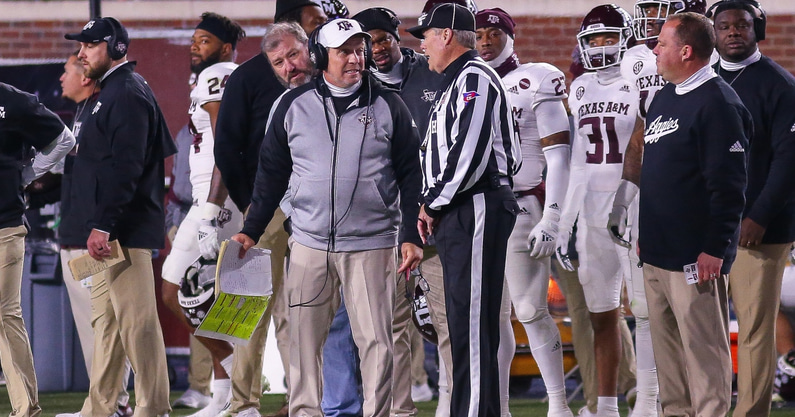 When Texas A&M left the Big 12, they left behind some big-time rivals, mainly the Texas Longhorns. Since joining the SEC, LSU has replaced the void, playing on Thanksgiving weekend for the past eight seasons.
SEC expansion is on the way with Texas and Oklahoma coming by the 2025 season at the latest. The conference has yet to announce how potential divisions or pods would look and annual matchups could get shaken up.
Texas A&M head coach Jimbo Fisher was asked if he would want to play LSU on an annual basis once the SEC expands. He said it's always a great game but will wait and see until the new format is set.
"I'll answer that question when I see what they put out there," Fisher said. "I like playing a lot of the guys we already have. The tendency is because that's the habit of who you're already playing and what you're doing, things that are happening. You like the LSU game, you want to play Alabama — those are great games but you'll have to wait and see what the inner dynamic structure is. This is always a great game because of how good they are and with how we're developing. It's always a great one to play, that's for sure."
Fisher is 2-1 in three games as the Aggie head coach against LSU. The first statement win for the program came against the Tigers, winning the 2018 edition in seven overtimes, one of college football's all-time games.
Jimbo Fisher comments on Lone Star Showdown
Before LSU, the Thanksgiving staple for the Texas A&M Aggies was the in-state rivalry against the Texas Longhorns. It's been exactly 10 years since the two have played, filled with a lot of contention and pettiness in-between.
Fisher was asked about the old rivalry on Monday, saying it went hand in hand with Thanksgiving Day. From to Cowboys to the Lions to the Lone Star Showdown, the head coach has a fond memory of the game.
"It was on Thanksgiving," he said. "The Cowboys are on Thanksgiving. The Lions are on Thanksgiving. That was one of the college games that was always on. It was one of the original Thanksgiving Day games. I remember watching Bubba Bean, Johnny Lam, Earl Campbell, those are the names I remember off the top of my head. That was back in the 70s."
With Texas joining the SEC, we know the rivalry will be back one day. Whether or not it will be played on Thanksgiving — we can only hope.