Texas A&M starting QB Haynes King expected to miss several weeks with ankle injury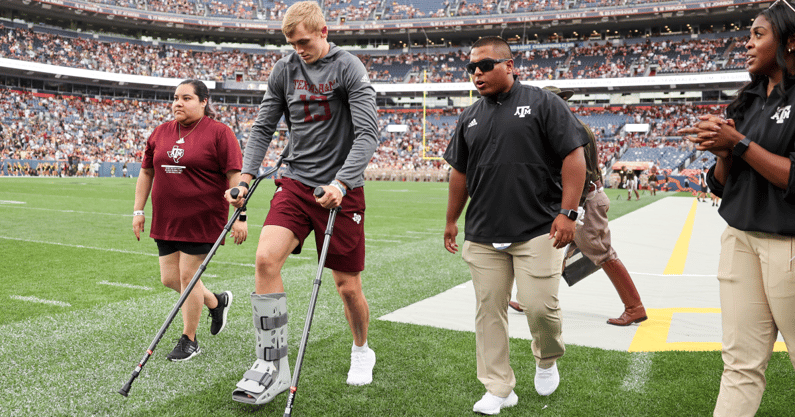 One of the nation's top-ranked teams likely will be without its starting quarterback for the next several weeks.
Texas A&M's Haynes King sustained a fractured ankle during the No. 7 Aggies' 10-7 win over Colorado on Saturday, sources tell On3's Matt Zenitz and Gerry Hamilton. King, a redshirt freshman, had surgery Sunday and is expected to be out until at least mid-October, the sources said.
That means A&M, which opens SEC play against No. 20 Arkansas on September 25, will turn to sophomore Zach Calzada as its starting quarterback. After Arkansas, the Aggies face Mississippi State on October 2, No. 1 Alabama on October 9 and Missouri on October 16.
Calzada's first start will be this Saturday against a woeful New Mexico team.
Calzada was 18-of-38 for 183 yards with one turnover and the late go-ahead touchdown pass during the win over Colorado. The touchdown — an 18-yard pass to star running back Isaiah Spiller with 2:41 remaining in the game — helped A&M pull out the win despite being held to 288 yards of total offense.
Calzada, a member of the Aggies' 2019 recruiting class and a former backup to Kellen Mond, entered the game after King suffered the injury while scrambling during A&M's second series.
King, who won a quarterback competition with Calzada during preseason camp, was 21-of-33 for 292 yards with two touchdown passes and three interceptions during A&M's season-opening 41-10 win over Kent State.
Fortunately for A&M, the Aggies have one of the nation's best defenses to lean on. The Mike Elko-led unit held Colorado to 260 yards Saturday, and the Buffaloes were scoreless during the game's final three quarters. That came after the defense held Kent State, the nation's top-ranked offense in 2020, to just 336 yards during the season-opening win.
A&M ranked No. 1 in the SEC and No. 9 nationally in total defense last season.