Alabama tight end Jahleel Billingsley making first transfer visit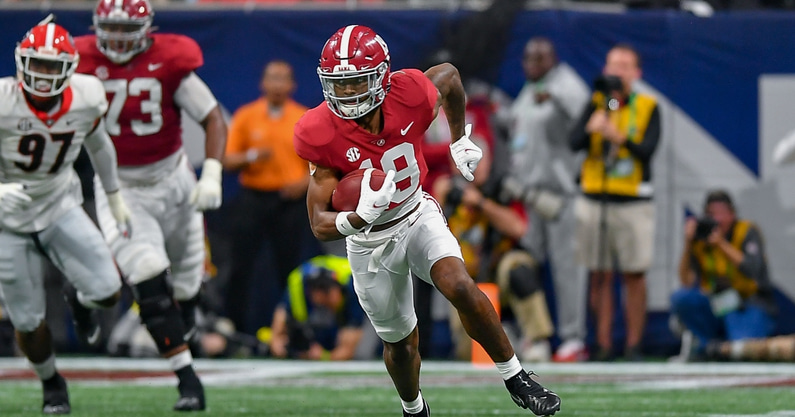 When Jahleel Billingsley entered the transfer portal, he instantly became one of the top names available. It may not have fully worked out during this past season in Tuscaloosa but the tight end has all of the potential in the world.
On Friday, Billingsley announced he was in Austin, TX, presumably on a visit, via Instagram story. Hitting the portal on Wednesday, Texas is thought to be the first visit the Alabama transfer has made so far.
Billingsley has strong ties to the Longhorns' coaching staff, with Steve Sarkisian being his offensive coordinator for two seasons and Jeff Banks being the tight ends coach for the Crimson Tide before heading to Texas. The latter was named as the secondary recruiter on Billingsley's On3 database profile.
Texas has lost two tight ends since the end of the 2021 season in Cade Brewer (graduated) and Jared Wiley (transfer to TCU). Three were taken at the position in the 2021 recruiting class in Juan Davis, Gunnar Helm, and Ja'Tavion Sanders. The three combined have limited experience, leaving the Longhorns with a hole heading into next season.
Billingsley would be a warm welcome for Sarkisian and his offense. The familiarity is already there with the scheme and he could have immediate playing time in Austin.
Throughout his career, Billingsley has had 37 receptions for 559 yards and six touchdowns. His breakout game came against Southern Miss this season, having 105 yards and a touchdown on five receptions. Being a more athletic, receiving tight end, Billingsley could spread open the entire field for Texas, if they end up being the destination.
Jahleel Billingsley enters transfer portal
Alabama tight end Jahleel Billingsley has entered the transfer portal, according to On3's Matt Zenitz. The former four-star recruit saw a decreased role after the emergence of converted defensive lineman Cameron Latu this season.
The 6-foot-4 junior from Chicago, Illinois finished 2021 with 17 catches for 256 yards and three touchdowns but did not catch more than two passes in any of the final 10 games.
In a tweet that was quickly deleted early this season, Jahleel Billingsley vented his frustrations with the Alabama depth chart but did not enter the transfer portal at the time. Nick Saban released the Week 1 depth chart and Billingsley was listed third behind Cameron Latu and Major Tennison.
In the tweet, Billingsley said this: "Come on now I'm the 3rd option."
The tight end missed the beginning parts of camp in COVID-19 protocol as the coaching staff had to go through some steps with him. And on Aug. 11 was when Saban said Billingsley had to work his way back up the depth chart.