Inside Lamborghini Austin's decision to partner with Bijan Robinson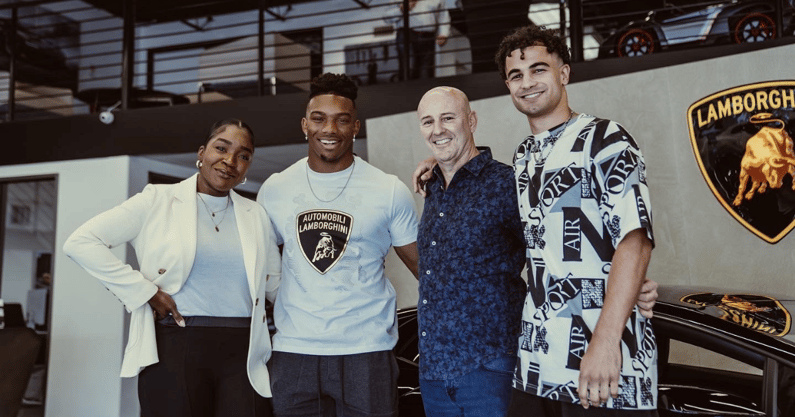 In the ever-changing landscape of NIL, Bijan Robinson landed one of the most eye-catching deals earlier this month with Lamborghini Austin. The Texas running back and 2022 Heisman Trophy candidate casually dropped pictures across his social media platforms of him sitting in a black Lamborghini Evo, announcing the deal to the college football world.
The deal sparked conversation across the college sports world, just the latest high-profile athlete to land a NIL partnership. The deal was not set up by a collective or brokered through a NIL exchange, though.
Actually, it all started at a recruiting event inside Darrell K. Royal Memorial Stadium. With the theme of Steve Sarkisian's "All Gas No Brakes," Texas asked luxury sports car dealerships in the area to bring vehicles to the event.
Jeremy Jaramillo, Lamborghini's marketing director, was the representative at the event. He let wideout Jordan Whittington rev up one of the cars, and he stayed behind to network after the event.
"As I'm pulling out of the stadium in through the tunnel, Bijan Robinson's roommate runs up to the car window," Jaramillo told On3 on Wednesday. "He's saying, 'Hey can you stop real quick? I got Bijan Robinson on the phone, and he wants to know if you can do a NIL deal.' Well, number one, I didn't know who Bijan Robinson was because I don't really follow college football. Number two, I didn't even know what NIL was at the time because I wasn't following college football.
"So I spoke to Bijan on the phone, and I told him 'Hey, if you give me some time, let me figure out what NIL is. I'll speak to one of our managing partners about it and see if it's something they're interested in."
From there, Robinson met up with Jaramillo and Bruce Knox, one of the owners of Lamborghini Austin, at a Grand Prix motorcycle racing event at COTA International Raceway. The parties discussed what the star running back was looking for and got to know him. After speaking with Robinson, Lamborghini worked out a deal with his agent.
While Jaramillo declined to give specifics on the deal, the Texas running back is allowed to drive a Lamborghini off the lot and the contract is a year long, set to expire in the spring of 2023.
"At the end of the day, we're not boosters," Jaramillo said. "We're not someone who, you know, if they lose to OU, that's the end of everything kind of people. We're just, more or less, a local business supporting a local business. … Right now, we just want to have our brand associated with Bijan's brand because it's brand exposure for both parties. He wants to exude excellence on the field. That's what Lamborghini's brand is associated with: exuding excellence and top-notch standards. That's really what we're looking at the biggest piece of this partnership is between us."
Jaramillo said the deal has even caught the attention at Lamborghini's headquarters in Italy. And while Lamborghini Austin never set off to become an active NIL partner with Texas, future plans are already in the works.
"It was so organic how it happened," Jaramillo said. "And nonetheless, ironically, it ended up working backward. Now, we have been working with the athletic department and coach Sarkisian, and we got some future things in the works."
Bijan Robinson's On3 NIL valuation growth since landing Lamborghini partnership
Entering the month of May, the Texas running back had an On3 NIL valuation of $229,000. The number has jumped significantly since he announced his partnership with Lamborghini. He currently has a valuation of $1.2 million and has seen a 114% growth in the past 14 weeks.
He ranks No. 13 in On3's NIL 100 and in the top 10 of On3's college football rankings. His social media following has grown, too, with a 26.5% uptick on Instagram. His social media per post value is currently set at $4,200.
The On3 NIL Valuation is an index that looks to set the standard market value for both high school and college-level athletes. The NIL valuation does not act as a tracker of the value of NIL deals an athlete has completed to date. It rather signifies an athlete's value at a certain moment in time.
The On3 NIL 100 is the first of its kind and the defacto NIL ranking of the top 100 high school and college athletes ranked by market valuation.