Bijan Robinson reveals his biggest area of focus ahead of the 2022 season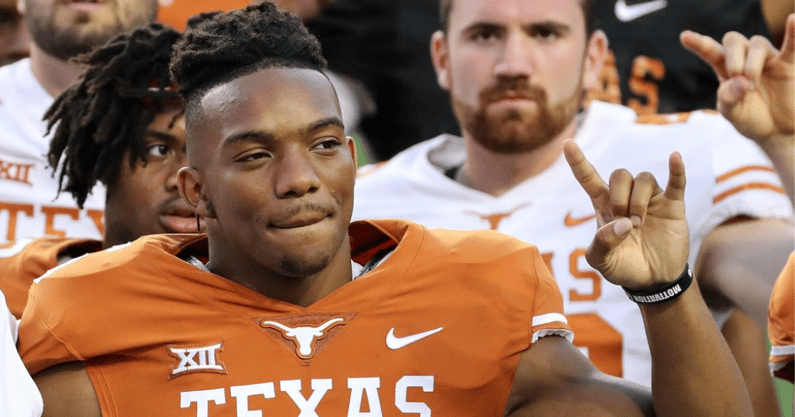 Texas junior running back Bijan Robinson has spent the offseason trying to add to his already impressive skill set. His two seasons at Austin have seen him rush 281 times for over 1,800 yards and 15 touchdowns. He was First Team All Big 12 last season and is already lined up as a preseason favorite for multiple awards and recognitions in 2022.
Ahead of his third season, Robinson was asked what he was working on in this offseason to get even better. He says two areas of focus have been breaking down defenders in the open field as well as pass protection for his quarterback.
"Just reading those third level defenders. Anticipating any type of defender coming on me, making those moves when I get to them and not early. I think I got really quick at my game so that short space quickness I thought it was pretty good. I think I got a lot better at that," said Robinson. "My pass protection is pretty good now. I've been working a lot just trying to get better at that every day. (With) my overall game, I've just been trying to build it in all areas so I can be a complete running back."
His major focus, though, has been becoming an even bigger asset in the pass game. Robinson pairs his rushing numbers with 41 catches for 491 more yards and six touchdowns. Between Texas running back coach Tashard Choice and wide receivers coach Brennan Marion, that trio has been working together to help him be even more dangerous through the air.
"How to break off defenders at the top of your route. Making sure I understand that you got to look at your defender when you're trying to attack their hit," Robinson said. "In Coach Sark's offense, I line up at receiver, I line up at slot and even from the running back spot. Coach Marion always gives me a lot of great tips on how to perform on the receiver's side of the ball. Coach Choice was kind of a receiving back as well. He's got a lot of knowledge from understanding receivers. I learn from both of them every day."
Robinson is one of if not the most dangerous weapon in college football. In total, he has produced over 2,300 yards of offense for the Longhorns. He will very likely add an additional 1,000 at least to that by the end of the season. It's just another day in the office for Robinson, though. Playing running back, especially at the high level he does, is what he lives for.
"I just love the position. I love to be versatile and do what I got to do."