Chris Beard borrows 'rat poison' phrase from Nick Saban to inspire Texas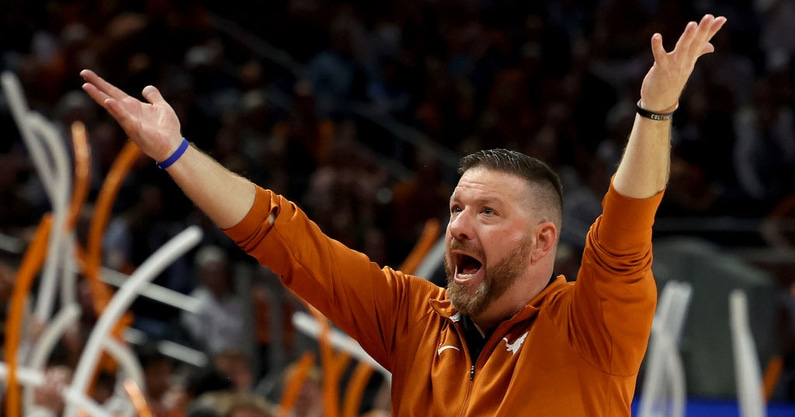 Texas basketball has started their season undefeated, and coach Chris Beard revealed he's been using Alabama football coach Nick Saban's rat poison analogy to motivate his team. Saban popularized the phrase around the college sports world after he thanked the media for their "yummy" rat poison — sharing that media praise can be just as dangerous as anything to a team's focus.
Chris Beard borrows "rat poison" from Nick Saban
With Texas taking down Gonzaga and scoring more than 72 points in all four wins so far, Texas is currently ranked fourth in the nation. Beard shared on Wednesday that he feels the lesson taught by Saban to his team is the best example of that pitfall that awaits top-ranked teams.
"You have to be determined. I know I can personally, I know our coaching staff can, there's a couple players in that locker room that I believe can. But as a unit? I don't know. We talked a lot about handling adversity, and sometimes success is adversity. Because success can get to you just like adversity can," started Beard.
"We talk a lot about rat poison in our program. Yes, we took that from Coach Saban. We borrowed it. I know no other way to really describe it any better. You know, a lot of times when people are talking about you maybe not in the best way, it's who cares? It's about our next game, next practice, next moment. I think veteran teams, experienced teams understand that when maybe from time to time somebody's talking good about you — really doesn't matter much either.
"To me it's all about validating. You gotta validate the last possession with the next possession. You gotta validate practices. Today's a big day for our team in my opinion. Yesterday we take off after a nice game in the Rio Grande Valley, and I'm always kind of curious with how a team's gonna respond after a win, after an off day, after some success."
Beard finished his virtual press conference with a breakdown of the next step for his players. Texas is entering the holiday season with a top-five ranking and plenty to think about off the court — between family, holidays and media praise. According to Beard, the upcoming month of distractions will be a huge test to see if the Longhorns are ready to make a deep tournament run.
"This week has a lot of distractions, you know nobody at Texas is in class this week because of the Thanksgiving break. A lot of distractions going on with holidays. Distractions doesn't necessarily mean negative, it just means there's things going on where we have to kind of lock in. So can our team handle it? We're about to find out."