College football insider forecasts future of Quinn Ewers after Arch Manning commitment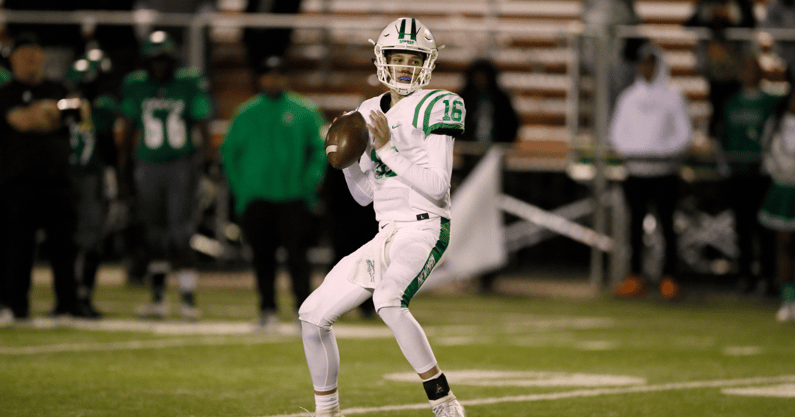 With the addition of five-star 2023 quarterback Arch Manning to the Texas recruiting class, questions are arising regarding whether Manning and current Longhorn QB Quinn Ewers will compete for the job in the coming years. College Football analyst Stewart Mandel has a strong opinion on the matter.
Mandel tweeted this gif from the movie Animal House expressing his guess on whether Manning and Ewers will share a locker room next fall.
So Mandel believes Ewers will be on his way out once Manning arrives. That even as a true freshman, Manning's name and talent will win him the starting job the minute he walks on campus.
Arch Manning is the No. 1 quarterback and the No. 1 overall player in the upcoming 2023 class, per the On3 Consensus. The crown jewel of the class nationally, according to virtually every recruiting service and talent evaluator out there. Oh and he's the nephew to two former Super Bowl winning quarterbacks. Big time get for the Longhorns.
Steve Sarkisian drops not-so cryptic tweet following Arch Manning commitment
The most publicly discussed recruitment in modern history is over, with Five-Star Plus+ quarterback Arch Manning announcing his commitment to Texas and head coach Steve Sarkisian via social media. After hearing the news, the second-year head coach voiced his excitement on social media with his signature tagline and a famous image.
Steve Sarkisian sent a tweet with the caption "All Gas, No Brakes!" shortly after Arch Manning tweeted his own message about committing to the Longhorns. The head coach also included an image of beloved mascot Bevo, shrouded in fog as he entered the field at DKR Texas Memorial Stadium.
Texas football also got in on the bit with a video of Sarkisian celebrating during a game last season.
While head coaches cannot comment directly on recruits before they sign the dotted line on their National Letter of Intent, there is little question what Sarkisian was references online. The trend has also become popular among coaches. With Lane Kiffin and Lincoln Riley regularly signaling the arrival of players with a discrete sign.