Why Colt McCoy should be ranked as top ten all-time college quarterback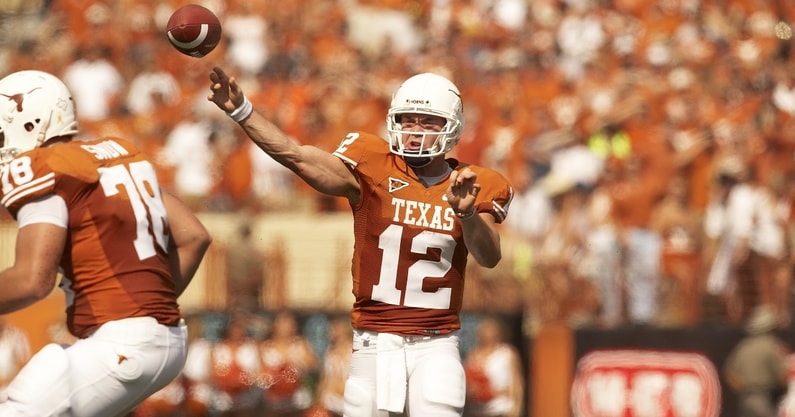 ESPN comprised a list of top 75 college quarterback since the year 2000, causing a bit of controversy near the top. Texas fans saw Vince Young make the list, coming in at No. 3. Plenty will argue he should have topped the list but that honor went across the Red River to Oklahoma's Heisman Trophy winner, Baker Mayfield.
In fact, On3's J.D. PicKell believes if Texas was going to have somebody to represent them in the top 10, it should have not been Young. He made an argument for his successor, Colt McCoy, to potentially replace Young. Yes, one of them has a national title but longevity is the argument from PicKell.
"Where is Colt McCoy on this top 10 list? Like, Vince Young is at three," PicKell said. "I love that Vince Young is there but I would argue for Colt McCoy being the best quarterback to play at the University of Texas.
"I understand Vince Young has the 'going for the pylon,' he gets in the end zone, they beat USC, brings a national title home. Colt McCoy won 45 games as a starter at Texas. McCoy could feasibly led Texas to a national championship had he not gotten hurt in the national title game."
'If Colt did not get hurt' is something Texas fans have been saying for nearly 15 years, wondering what could have been if McCoy was healthy against Alabama in 2009. Many believe the Longhorns would have been able to take down Nick Saban and see Mack Brown lift another crystal ball.
But McCoy's legacy goes so much further than a 'what if?' scenario. He was a four-year starter in Austin and was as consistent as a quarterback could be. McCoy was even in the NCAA record book for a good period of time.
"There was a period where Colt McCoy was one of, if not the, winningest college quarterback," PicKell said. "He was for a period of time, until Mac Jones came along, the most accurate college quarterback. Completed 70% of his passes. Over 13,000 yards for his career, 112 touchdowns, over 1,500 rushing yards.
"If you want to put a Texas quarterback in the top 10, I might even bump Vince Young down a little bit… I believe (McCoy) belongs in this top 10."
In ESPN's entire list, McCoy came in ranked at No. 12, just one spot behind Clemson's Trevor Lawrence. While it's still high praise for the Texas legend, PicKell would like to see him a few spots higher. Even if it means bumping down somebody those in Austin consider one of the program's best ever players.