ESPN writer makes forecasts Texas' future in SEC in Week 2 column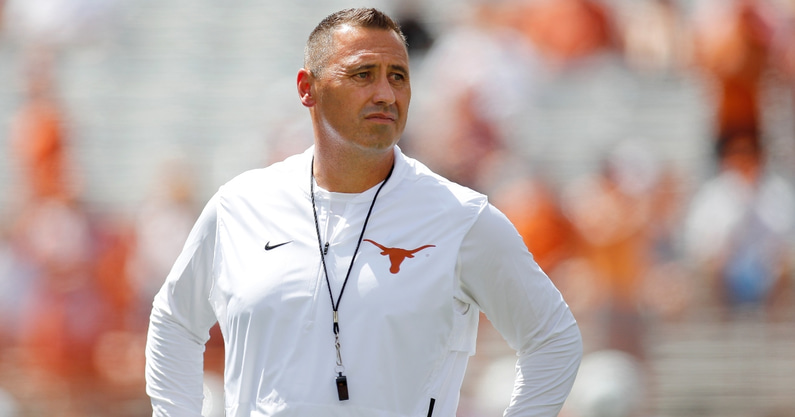 ESPN's Mark Schlabach did not hold back in his Week 2 column when discussing the Texas Longhorns' football program, stating "Texas isn't back," and "As we warned you last week, pump those brakes on those 'Texas is back' proclamations."
His statements come just a few days after Texas was absolutely shellacked by Arkansas, 40-21 in Fayetteville, Arkansas.
On defense, Texas had zero sacks and only two quarterback pressures for the entire contest.
The Razorbacks played bully ball with the Longhorns defense, manhandling them at the line of scrimmage and gashing them to the tune of 333 rushing yards. Arkansas averaged over seven yards per carry and they also piled up 471 yards of total offense.
"Over time, they kind of wore us out so our defense was out on the field … it kind of wore us out," Texas head coach Steve Sarkisian said. "Forty-seven rush attempts. We never put any pressure on them to throw the ball. I think part of that [was] we just didn't get it done offensively to take any pressure off the defense."
It's only been two games, so Schlabach says it's entirely too early to be making judgments on both Sarkisian and whether or not Texas will survive in the SEC.
"After only two games, it's too early to say Sarkisian won't succeed. It's way too early to say the Longhorns won't be able to compete whenever they move from the Big 12 to the SEC, whether that's in 2025 or sooner."
Schlabach goes on to state that the Longhorns need to upgrade their roster and upgrade it dramatically on both lines of scrimmage before they move from the Big 12 to the SEC.
Texas head coach Steve Sarkisian track record
As a quarterback coach, Sarkisian has a sparkling track record. As an offensive coordinator, he's improved a lot over the years and proved to be one of the best offensive coordinators in college football at Alabama under head coach Nick Saban. He won the Broyles Award in 2020, given to the nation's top assistant in college football, for his work with the Crimson Tide.
As a head coach, Sarkisian has had two stops before Texas, one at Washington and one at USC. While at Washington, Sarkisian won eight games once in five seasons with the Huskies. While at USC, he went 9-4 during his first season there but had to step down in his second year with the Trojans due to his long history of substance abuse issues.
Sarkisian was recently courted by Colorado as their head coach before the 2020 season, but ultimately declined the position to stay as the offensive coordinator at Alabama.