Live updates: Arch Manning plays in front of Texas coach Steve Sarkisian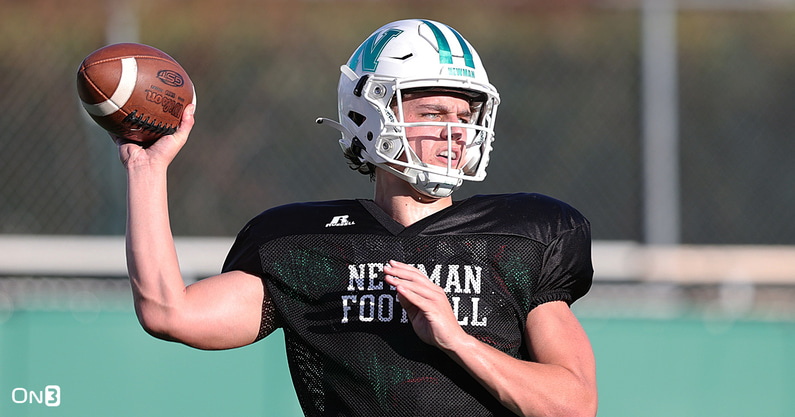 Arch Manning, the nation's No. 1 overall prospect in the 2023 class according to On3, takes the field Thursday night. The 6-foot-4, 220-pound Manning is leading New Orleans Isidore Newman against LaPlace (La.) St. Charles Catholic in a battle of undefeated teams.
On3 national experts Chad Simmons and Gerry Hamilton are on the sidelines to bring updates on Manning's performance throughout the night.
Texas Longhorn fans are also discussing the game on Inside Texas' Members Only message board.
1ST QUARTER
On the game's opening drive Arch Manning connected on a slant to get a first down. However, Manning's his third pass of the game was intercepted. The turnover led to St. Charles Catholic field goal and an early 3-0 lead.
St. Charles Catholic ended the first quarter leading 6-0
2ND QUARTER
Gerry Hamilton: "Sark and (Texas QB coach A.J.) Milwee hanging in the end zone near the Isidore Newman sideline."

3RD QUARTER
After struggling to find a rhythm passing the ball in the first half, Arch Manning scrambled 17 yards to move the ball past midfield early in the third quarter.
Facing fourth and six, Manning connects for a seven yard gain along the right sideline to keep the drive going.
Manning gets Newman on the board on an 18 yard post for a touchdown. Newman took a 7-6 lead midway through the third quarter after the PAT.
4th QUARTER
Arch Manning engineered a time-consuming drive that ended with a missed field goal as Newman tried to extend its lead.
St. Charles Catholic was able to regain the lead on a 24 yard touchdown run. The two-point try failed to keep it 12-7 St. Charles Catholic with 0:47 left in the game.
On the final drive of the game, Manning connected on a 17 yard completion on the left sideline.
Texas head coach Steve Sarkisian visiting Arch Manning
Texas' first-year head coach Steve Sarkisian was spotted at Newman's game Thursday night to watch Manning.
The two have developed a great relationship, Manning told InsideTexas. It started during Sarkisian's tenure as the offensive coordinator at Alabama and has only grown since then.
"(Sark) is a laid back guy, which I really like," Manning said. "He's not always pitching me. He just checks in and that's one thing I like about him. When it is football, he's a genius."
What makes Arch Manning No. 1?
On3 Director of Scouting Charles Power explained what makes Arch Manning the top prospect in the 2023 class:
Simply put, Arch Manning has one of the quickest and purest releases I've seen from a high school quarterback. His throwing motion is concise with no moving parts. The ball consistently comes out quick. In-person, it's almost easy to not notice the release unless you're watching it explicitly.
A quarterback's ultimate success is decided by how they play from within a pocket. On that front, Manning is already stepping up and firing as the walls are closing in. There are a number of plays from the 2020 season where he doesn't bail out, stands tall and throws a strike.