Former five-star quarterback Quinn Ewers to transfer to Texas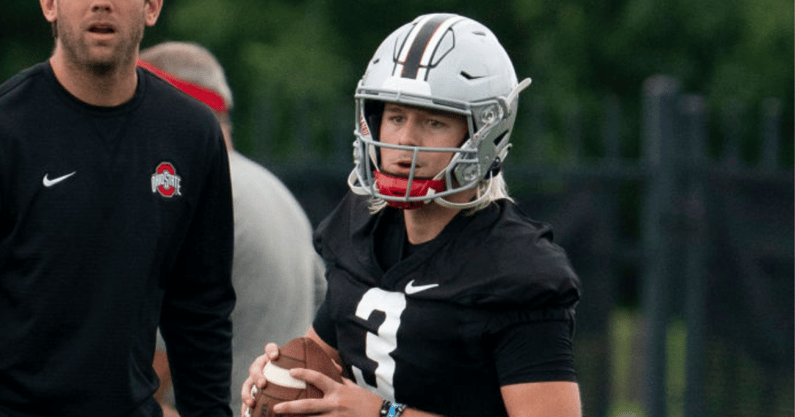 It's taken less than a week, but Quinn Ewers has made his decision according to On3's Gerry Hamilton. He intends to take his talents to Austin, joining Steve Sarkisian at Texas.
The former five-star quarterback will provide quite a jolt for the Longhorns, who averaged 225.4 passing yards per game this season. It's a welcome addition for Sarkisian and Texas after a rough 2021 season.
Ewers entered the portal last week and didn't wait long to make contact with Big 12 teams in Texas. In fact, Ewers committed to Texas at one point when he was being recruited out of high school. Some current and former Longhorns have even gotten in on the recruiting effort to get Ewers to Austin.
A 6-foot-2, 200-pound freshman, Ewers logged just a handful of snaps this season. He was the No. 1 recruit in the 2021 consensus rankings and No. 2 in the 2021 On3 rankings, trailing only Oklahoma's Caleb Williams.
Originally a member of the class of 2022, Ewers enrolled at Ohio State a year early after Texas ruled he was prohibited from accepting any Name, Image and Likeness deals as a high schooler. Not long after he rolled into Columbus, Ewers secured inked a three-year, $1.4 million autograph deal with GTSM.
How Quinn Ewers fits at Texas
A native of Southlake, Texas, Ewers attended Southlake Carroll High School and threw for 2,442 yards and 28 touchdowns as a junior. One of the most vaunted quarterback prospects coming out of high school, Ewers still hasn't had the chance to prove himself in the college ranks.
His connections around Texas high school football opened the door for the possibility of Ewers landing at Texas Tech.
Ewers would be working with Sarkisian, who was Alabama's offensive coordinator when the Crimson Tide won the 2020 national championship. Sarkisian's tutelage helped Mac Jones become a Heisman Trophy finalist and, eventually, a first-round pick in the NFL Draft.
Texas currently has the eighth-ranked recruiting class for the Class of 2022, and adding Ewers would likely move that up. Ewers was a Five Star Plus+ recruit and the top-rated recruit in the nation, according to the On3 Consensus, a complete and equally weighted industry-generated average that utilizes all four major recruiting media companies.
Ewers could potentially bring some big 2022 recruits with him, as well. He was originally a Class of 2022 recruit, but reclassified to the Class of 2021 to enroll at Ohio State.