Former Oklahoma DB Latrell McCutchin responds to Texas transfer rumors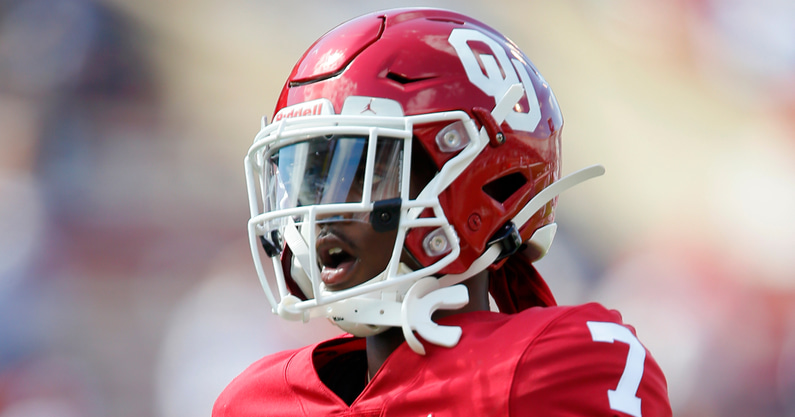 It's unclear where former Oklahoma Sooners defensive back Latrell McCutchin is going to end up on the other side of the NCAA transfer portal, but you can bet it won't be the University of Texas. The 2021 signee out of Austin posted a strong reaction to rumors of a potential return to his hometown.
"Please stop it with the UT talk," McCutchin tweeted on Wednesday with laughing face emojis. "Y'all already know where my mind at with that school. Very much sick of hearing about it."
Latrell McCutchin clearly has no love lost for the Texas Longhorns, despite growing up near the Forty Acres. McCutchin received interest from the Longhorns late in his recruitment but locked in his commitment with the Sooners the summer before his senior year.
In October of 2020, the now-former Sooner got more than 1,800 likes on a photo posted to Twitter of the horns-down symbol.
In this year's Red River Rivalry, the Oklahoma Sooners battled back for a 55-48 victory over Texas. McCutchin recorded one tackle in that contest.
McCutchin enters NCAA transfer portal
After just one season in Norman, four-star cornerback Latrell McCutchin entered the transfer portal on Tuesday. On3's Matt Zenitz reported the move first, and McCutchin posted a farewell note to the Oklahoma faithful on Twitter.
played in nine games in his first year for the Sooners, including one start against Western Carolina in September. He recorded nine tackles, forced two fumbles, and defended one pass.
McCutchin was a four-star recruit according to On3 Consensus, a complete and equally weighted industry-generated average that utilizes all four major recruiting media companies. He was the No. 24 cornerback in the 2021 class as well as the No. 40 overall player out of the state of Texas. He was at one time committed to Alabama.
The young defensive back is one of eight Oklahoma players to enter the portal this season.
Head coach Lincoln Riley left to lead the USC Trojans with Clemson defensive coordinator Brent Venables stepping up to take over.