Steve Sarkisian addresses future of Texas' QB room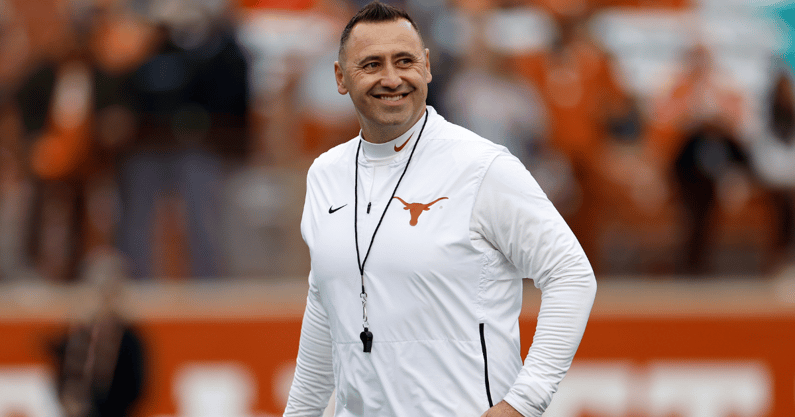 Two big-named recruits now reside in Texas' quarterback room, with 2023 Five-Star Plus+ Arch Manning joining 2021 Five-Star Plus+ Quinn Ewers. Steve Sarkisian has long been known for his development of quarterbacks and now, has two highly-rated prospects at his disposal for at least one more season.
Ewers was the Texas starter a year ago and is expected to be again this upcoming season. The thought with Manning is to take a redshirt season but Sarkisian is more worried about making sure the developmental process gets underway.
"I'm not worrying about redshirting," Sarkisian said. "I'm worrying about development and we'll deal with that when the time comes."
Per NCAA rules, Manning could possibly appear in four regular season games next season without burning a redshirt. He could even appear in a bowl game with no penalty. If Sarkisian decides to get the freshman some snaps early in his career, there will be plenty of opportunities.
Young quarterback room resides in Austin
If you don't count Ewers reclassifying at the last minute and enrolling at Ohio State, he is heading into his second season. Maalik Murphy came into the program at the same time, being a member of the 2022 recruiting class and now, Manning is on board. All three of those guys are young quarterbacks for Sarkisian to work with.
That leaves Charles Wright as the eldest scholarship quarterback in Austin, committing during the Tom Herman era.
Filled with a bunch of talent on paper, Sarkisian knows it's time to deliver in the development of the four and have success moving forward.
"I think we've got a very talented room," Sarkisian said. "With Quinn, Maalik, Charles, Arch — you always want to have four quarterbacks on scholarship. We may not be as old as some other rooms but we're very talented. Now, that's the job that we have as a staff — (Quarterback) Coach (AJ) Milwee, myself, and the rest of the offensive staff — to develop these guys to put them in position to perform when their number is called."
Transfer portal changes things for Steve Sarkisian
Having a young quarterback room is no mistake for Sarkisian either. He understands if guys are not playing as they get further along in their eligibility they are going to enter the NCAA transfer portal.
Hudson Card is a great recent example for Texas, leaving after losing two battles to Ewers and to some extent, Casey Thompson.
"In this day and age of college football with the transfer portal, I don't know how many times you're going to have your junior, senior type backup quarterback on your roster. They're either playing for you or they're probably going to be somewhere else. And that's okay. That's the nature of the world we're in right now."
Sarkisian expects youth to be a reoccurring theme for the Longhorns as time passes. The importance of development cannot be understated by him, saying it's the reality Texas is going to have.
"We better get used to developing young quarterbacks because that's probably going to be the world we're living in here in the future."