Archie, Eli Manning react to Arch Manning committing to Texas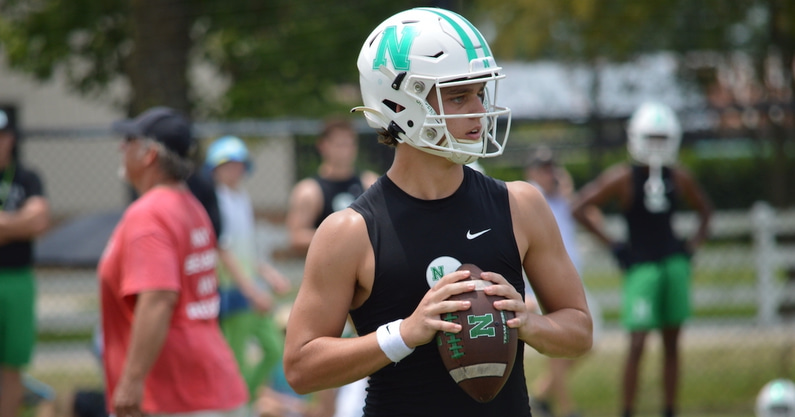 Arch Manning's commitment to Texas on Thursday was the biggest recruiting story of the year — and arguably in recent memory. The On3 Consensus No. 1 overall player has been the most talked about football recruit in the modern recruiting era.
His lineage is no small part of that. As the grandson of NFL Hall of Famer Archie Manning, and the nephew of Super Bowl winners Peyton and Eli Manning, the attention comes with the territory. The family kept things close to the vest throughout his recruitment, and even when he did announce his decision, it was his first-ever post on Twitter.
The announcement came just one day before the annual Manning Passing Academy, where Arch is expected to throw with other quarterbacks from around the country. On Friday morning, Eli and Archie answered questions about the Five-Star Plus+ quarterback's college courtship.
"I think he's handled everything very well," Eli Manning said. "You know, there's been a lot of pressure on him, there's been a microscope on him for a long time. I think he's done a good job just trying to understand what's important, and that's just playing high school football, being a great teammate, learning. … But he's gone through the recruiting process, he's asked a ton of questions, he's met with everybody and at some point you just, you go with your heart and you know the right spot for you. You might not be able to pinpoint exactly why you're going to a certain place, you just know it's going to be the right spot, so happy for him."
Arch Manning's recruitment was drastically different than his uncles'
Eli himself was a highly touted recruit, as was Peyton. But the latter's recruitment was prior to the recruiting services era, and the former's happened during its infancy. They would've looked very different in the world Arch is living in.
"The recruiting process has changed," Eli Manning added. "The access, the texting, the different visits you have and the camps and everything going on. I took my five official visits, and that was about it. Now he's been taking visits since his sophomore year I feel like, so it's just a lot more going on, a lot more interaction with the coaches going on. But, hey, he's done a good job, he's been thorough. And obviously now, hey, you make a decision, you don't look back and you make it the right decision."
Added Archie: "They start too young now. You don't need to offer eighth graders or freshman. Social media has changed the world, and that's okay. It's just a lot different."
As for how Arch went about making that public, it was much more similar to Eli than Peyton.
"That's more Peyton's style, kind of the flash and the press conference," Eli joked. "He had a press conference at a bar his high school year to decide where he was going. So I think Arch has been very under the radar, just keep things simple. People were kind of expecting a lot, but that's not his style. I think he was just ready to be done with it and say, 'Here's where I'm going, let's end this thing and let me enjoy my senior year of high school.'"