Quinn Ewers details Texas' mindset entering Alamo Bowl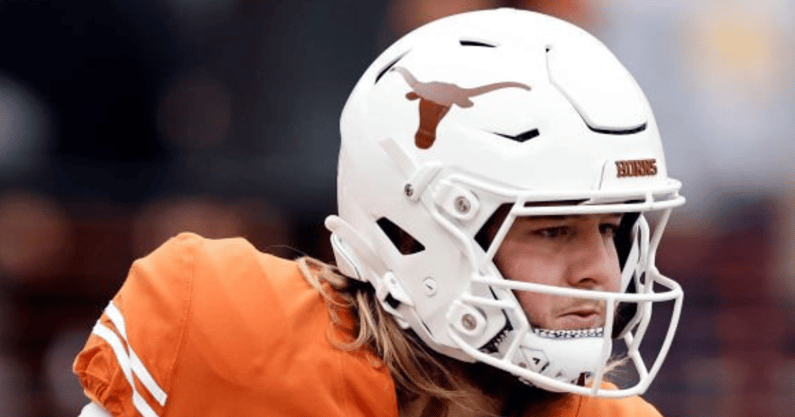 Quinn Ewers is set to make his bowl debut tonight when Texas wraps up its season in the Alamo Bowl against Washington. As the Longhorns go for their fifth straight bowl win and, oddly enough, their third straight in the Alamo Bowl victory, Ewers says they're just trying to quiet the noise and focus on tonight.
Ewers shared those thoughts during their press conference Wednesday ahead of the game. He kept it simple by saying their only focus is going undefeated tonight and letting all the other distractions fade into the background.
"Just kind of treat it like it's every other game. At the end of the day, you try to go 1-0," said Ewers. "We're just trying to keep it as simple as that and not try to let all this other stuff going on around us get in our way and be distractions."
Ewers' development has been a major storyline for Texas over the course of its season. However, with key players opting out for the Longhorns, there will be even more weight on his shoulders tonight to get the job done. It sounds like it's strictly business for Ewers, though, as many will be watching tonight to see if he can end their season the right way and provide any promise of things to come in 2023.
Sarkisian comments on Quinn Ewers' growth in 2022
For the first eight-ish quarters Quinn Ewers played in a Texas uniform, things were going swimmingly. However, the latter half of the season was a struggle for Ewers. Head coach Steve Sarkisian continually called the freshman's number but with little success. There have been some tough performances with none of the early season success showing back up.
"I think one thing that is hard when you're a young player and you have some instant success is that you think you do have it figured out," Sarkisian said. "There's a lot that goes into playing quarterback at this level. Whether it's on the field, off the field, fighting through adversity, persevering through adversity. And I think Quinn has had to do that."
"He's kind of been exposed to a lot. The good and the bad, the tough times in game, the tough times off the field," Sarkisian said.
Ewers will have another opportunity to play this season, with Texas facing Washington in the Alamo Bowl. Sarkisian has said the freshman quarterback has grown, even with the struggles. Thursday will be the final chance to show us what Sarkisian is claiming.
"(The struggles) forced maturity," Sarkisian said. "I think he has handled it really well. He has represented the University of Texas really well. I think I've seen him grow."