Rece Davis discusses how much NIL may have factored into Arch Manning's Texas commitment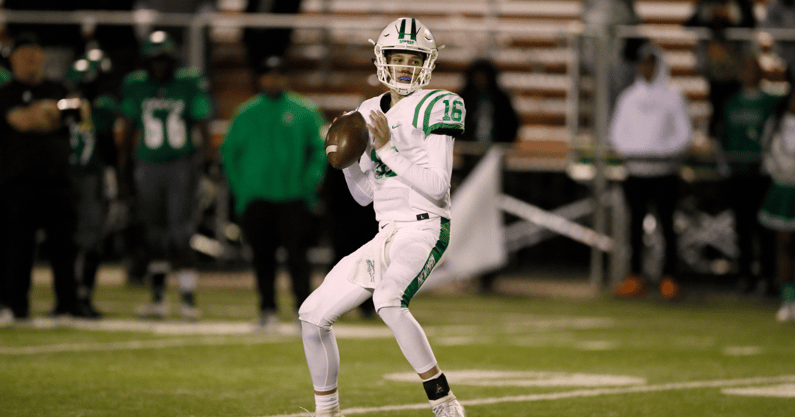 After Arch Manning committed to Texas on Thursday, the question now turns to how NIL might have impacted the decision. ESPN's Rece Davis made his thoughts clear on Friday: He doesn't think NIL wasn't a factor at all.
During an appearance on First Take, Davis addressed the question about NIL's role in Manning's high-profile recruitment. He talked about the old-school approach Manning and his family — who's fairly well-known — took in the time leading up to the commitment. Davis said although the Five Star Plus+ recruit will have opportunities for NIL once he gets to campus, it likely wasn't a deciding factor before he committed.
"Not any, I don't think," Davis said. "Now, he's going to be very marketable, but I don't think that's the way the Manning family … I don't really think that's how they roll. They don't have to. That's true, and that's fine. They chose to handle this recruitment sort of in an old-school manner.
"There will be plenty of opportunities for Arch, after he plays well. I don't think it played a really big role. They're certainly very savvy and astute. They know opportunities are going to be there. They didn't necessarily need them to be a determining factor in recruiting."
Manning has an NIL Valuation of $3.1 million, ranks No. 3 in the On3 NIL 100 and No. 1 in the On3 High School Football NIL Rank. He has 129,000 total followers on his social media profiles — Twitter, Instagram and TikTok — and a per post value of $21k.
Pete Thamel reveals main factor for Arch Manning committing to Texas, impact on future of the program
Arch Manning could've played college football wherever he wanted, and he announced on Thursday he's choosing Texas. Afterward, Pete Thamel of ESPN explained what he believes is the main factor for the On3 Five Star Plus+ quarterback choosing to play for the Longhorns.
"I really think the main factor in this decision, I have to give him credit, is Steve Sarkisian," Thamel said. "Steve Sarkisian is one of the top quarterback coaches, and top play-callers in all of football. He's been an NFL offensive coordinator with the Falcons. He was an NFL quarterbacks coach with the Raiders. Obviously, we saw the assembly line of high-end quarterbacks under his tutelage at Alabama, Tua Tagovailoa to Mac Jones.
"I really feel like the NFL preparation available for Arch Manning in Austin ended up being the difference maker for Texas."