Rece Davis, Kirk Herbstreit discuss Texas back in the top 25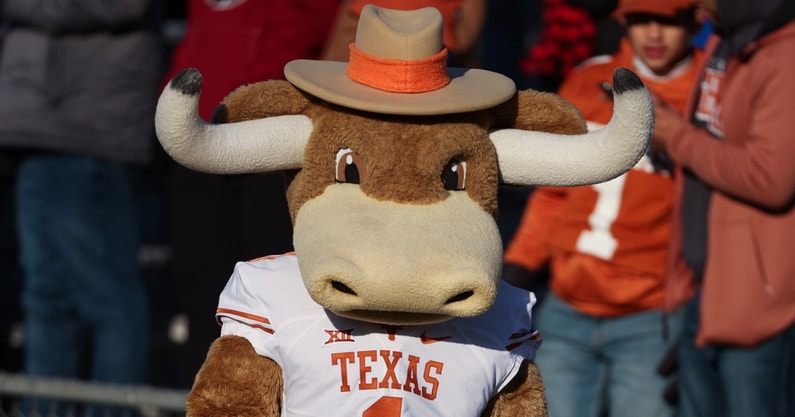 The College Football Playoff top 25 was just revealed, and the Texas Longhorns have made it back on the list. After an impressive victory over Kansas on Saturday, Texas has climbed back into the top 25 and is sitting at No .23. The College Football Playoff reveal show tandem of Rece Davis and Kirk Herbstreit gave their thoughts on the Longhorns making it back into the top 25.
"Texas is back in there and still with the chance, Kirk, to get to the Big 12 championship game; should they win and Kansas State loses this weekend," said Davis.
"Yeah when we all left Austin that night, after the way they lost to TCU a couple weeks ago, you wondered where they would be fighting back that next week," said Herbstreit. "And they showed a lot of heart. Here they are at 7-4 with one more game to go."
CLICK HERE to subscribe for FREE to the On3 YouTube channel
Texas has had a bit of an up-and-down season, but they still have an opportunity at the Big 12 championship should a few dominoes fall in their favor. The Longhorns will need to handle business at home on Friday against a 6-5 Baylor squad who are the conference's defending champions. After that, they will turn into the biggest Kansas fans as the Jayhawks take on their in-state rivals in Bill Snyder Family Stadium. Should those two things happen, Texas will get their rematch against TCU in the Big 12 championship game.
College Football Playoff Top 25: Updated CFP rankings revealed
The College Football Playoff Selection Committee once again released an updated 2022 rankings after an upset-filled weekend set up the new-look poll ahead entering Rivalry Week and the final round of games in the regular season. The committee updated the data and debated the many matchups to rank the top contenders for the four-team playoff and those with a chance at the New Year's Six bowls during ESPN's Tuesday night reveal show.
After winning the national championship last season, Kirby Smart has kept Georgia on track to defend its title with a return to the CFP. LSU remains in the picture as Tennessee slipped up, opening the door for the likes of Clemson and USC to make a case as potential conference champions. Ohio State and Michigan survived again to preserve the undefeated showdown for a spot in the Big Ten title game.
Week 13 CFP Rankings
1. Georgia (11-0)
2. Ohio State (11-0)
3. Michigan (11-0)
4. TCU (11-0)