Steve Sarkisian: Texas senior class has been 'rocks' throughout season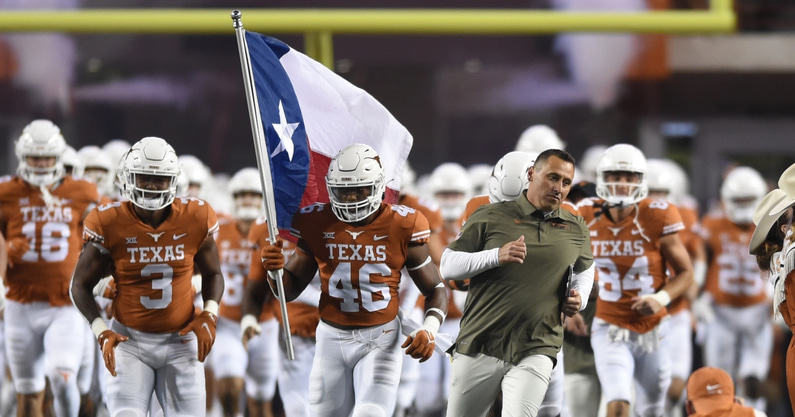 To be a senior at Texas, it's been a rough four seasons. Most have dealt with three different head coaches, being recruited by Charlie Strong and playing for both Tom Herman and Steve Sarkisian.
Sarkisian said the seniors who will be honored against Kansas State "bleed burnt orange" and have been "rocks" through a ton of adversity. With no bowl game to play at the end of the season, Saturday will be the sendoff they deserve.
"I think what it says is they have a lot of pride in the University of Texas and this football program," Sarkisian said. "They chose to come here, they chose to be part of this great football tradition. They chose to come here to get a world-class education and these guys bleed burnt orange. When you go through coaching changes — not just head coach but position coaching changes. There's been a lot of turnover here in their time and hopefully, they see that we're providing some sense of stability of what we're trying to build.
"I told them last night with the team, if it weren't for those guys, I don't know if my experience in my first 11 of the months here would have been as good as it's been. Those guys have been rocks through a lot of adversity that we've been faced with. They've been great sounding boards for me to get myself acclimated to the University of Texas and the football program. I'm really grateful to them for what they've done and they deserve a really good farewell."
Steve Sarkisian on what Texas is playing for
It's been a rough first season for Sarkisian on the field. Texas has lost six straight games and will not be going to a bowl game. Even with all of the negatives, the Longhorns still have one more game to play at home against Kansas State.
Sarkisian was asked what they had to play for against the Wildcats. He said the team has been close in a lot of the games and wants to prove they can fulfill the potential on Friday.
"Quite frankly, we had a really good team meeting last night and I recognize that some of the narrative is that the sky is falling," Steve Sarkisian said. So as bad as it looks because you are what your record says you are, I wanted to make sure our players understood that we are still really close. And let's not lose sight of that. Ideally, we would really like to play well on Friday and one, send a message to ourselves of what we are capable of."